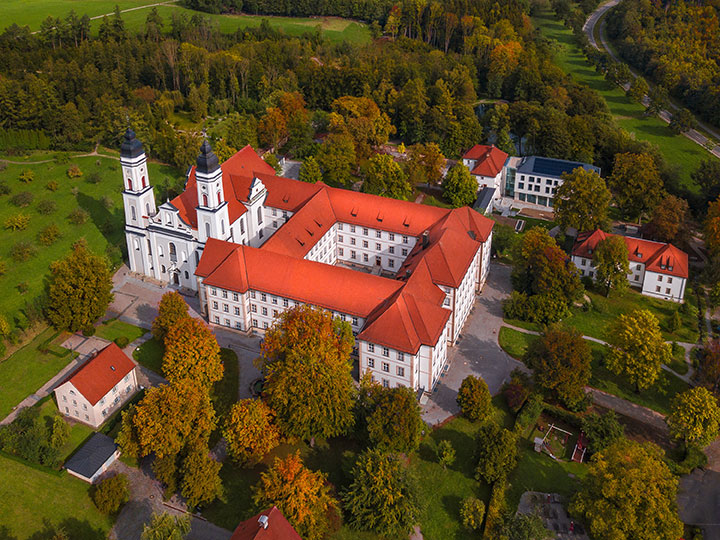 June 22 — 27, 2025
Irsee, Germany
About This Conference
Coming Soon
Previous Conference Information
Conference Organization
Chairs
Bruce Pint, Oak Ridge National Lab, USA
Elizabeth Opila, University of Virginia, USA
Brian Hazel, Pratt & Whitney, USA
Uwe Schulz, DLR, Germany
Ram Darolia, GE Aviation (ret.), USA
Bryan Harder, NASA, USA
The Organizing Committee
Mike Maloney, Pratt & Whitney, USA
Robert Vaßen, Research Center, Julich, Germany
Margeux Wallace, GE Research, USA
Ravi Shankar Naraparaju, DLR, Germany
Gregoire Witz, Siemens Energy, Germany
Gyn Brewster, Rolls Royce, UK
Previous Conferences in this Series
Thermal and Environmental Barrier Coatings
Aug 17-22, 2003
Irsee, Germany
Conference Chairs:
David R. Clarke, University of California Santa Barbara, USA
Anthony Evans, Princeton University, USA
Manfred Ruehle, MPI, Germany
---
Thermal Barrier Coatings II
August 12-17, 2007
Irsee, Germany
Conference Chairs:
Ram Darolia, GE Aviation, USA
Michael J. Maloney, Pratt & Whitney, USA
Kevin Hemker, Johns Hopkins University, USA
Yutaka Kagawa, University of Tokyo, Japan
Christoph Leyens, Technical University of Brandenburg at Cottbus, Germany
---
Thermal Barrier Coatings III
Aug. 7-12, 2011
Irsee, Germany
Conference Chairs:
Michael J. Maloney, Pratt & Whitney, USA
Uwe Schulz, German Aerospace Center, Germany
David Rickerby, Rolls-Royce, UK
Ram Darolia, GE Aviation, USA
Odile Lavigne, ONERA DMSM/MAT, France
Hideyuki Murakami, National Institute of Materials Science, Japan
Hongbo Guo, Beihang University, China
---
Thermal Barrier Coatings IV
June 22-27, 2014
Irsee, Germany
Conference Chairs:
Uwe Schulz, German Aerospace Center, Germany
Ram Darolia, GE Aviation, USA
Michael J. Maloney, Pratt & Whitney, USA
---
Thermal Barrier Coatings V
June 24 – 29, 2018
Irsee, Germany
Conference Chairs:
Robert Vaßen, Forschungszentrum Jülich GmbH, Germany
Brian Hazel, Pratt & Whitney, USA
Uwe Schulz, German Aerospace Center, Germany
Ram Darolia, GE Aviation, USA
Michael J. Maloney, Pratt & Whitney, USA
---
Thermal Barrier Coatings VI
June 19 – 24, 2022
Irsee, Germany
Conference Chairs:
Brian Hazel, Pratt & Whitney, USA
Uwe Schulz, German Aerospace Center, Germany
Mike Maloney (retired), Pratt & Whitney, USA
Robert Vaβen. Research Center, Julich, Germany
Ram Darolia (retired), GE Aviation, USA
Venue Information
Nestling in the Alpine Foreland of the Allgäu and located only a few kilometers from walled town of Kaufbeuren, the former Benedictine monastery at Irsee – founded in the 12th century – now houses a modern conference center The magnificent Baroque church and the harmoniously designed four-winged monastery, surrounded by a well-kept park, away from major highways and yet easily reached, is particularly suitable for the conference. The center offers a broad range of leisure activities including a bierstube in the cellar of the monastery and a play room with pool, table tennis and tabletop football. There is also a bocce court, and a sauna available for guests. Nearby are many jogging trails, fitness trails, a tennis center, walking and hiking trails. Across the court from the center is the Irsee brewery where conference attendees can enjoy beer directly from its source. Note that there are no televisions in the bedrooms; however, one may be rented.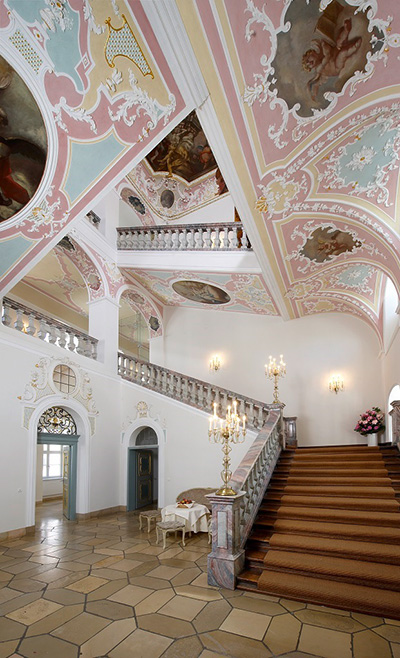 The nearest major airport is Franz-Josef Strauss Airport in Munich and their web-link provides a great deal of useful information, including information for booking airport hotels.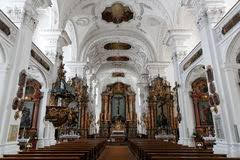 ---

Kloster Irsee/Swabian Conference Center at Irsee is a good starting point for excursions and sightseeing tours to the Allgäu Mountains, to Lake Constance, to Austria and Switzerland. For those who plan to extend their stay, popular day-trips are to the Castles of Linderhof and Neuschwanstein (built by the Bavarian King Ludwig II), the scenic Tannheimer Valley and the Pfaffenwinkel with its famous Baroque churches (Wieskirche).
More information about Kloster Irsee can be found at www.kloster-irsee.de
Transportation to Conference Site
The Swabian Conference Center at Irsee is nestled in the Alpine Foreland of the Allgäu, yet is conveniently located near Munich and is easily reached by rail or road. For those traveling from the airport by train, one can reach the Munich Main Station (Hauptbanhof) in several ways: (1) by Lufthansa Airport Bus. Departures are every typically 20 minutes for the 45 minutes trip. Cost is approximately 15 € one- way and 25 € roundtrip. (2) By Rapid Transit Train ("S-ban" – either S1 or S8). Departures are every 20 minutes for the 41 or 45-minute trip. (3) By taxi. The trip takes approximately 40-minutes and the price should be discussed with the driver.
From the Munich Main Station there are through trains to Kaufbeuren (about an hour ride). In front of Kaufbeuren Station there is a taxi stand.
How to get there – Kloster Irsee (kloster-irsee.de)
Bus Schedule
General Information about ECI
Engineering Conferences International (ECI) is a not-for-profit, global engineering conferences program, originally established in 1962 that provides opportunities for the exploration of problems and issues of concern to engineers and scientists from many disciplines.
The format of the conference provides morning and late afternoon or evening sessions in which major presentations are made. Poster sessions will be scheduled for evening discussion as well. Available time is included during the afternoons for ad hoc meetings, informal discussions, and/or recreation. This format is designed to enhance rapport among participants and promote dialogue on the development of the meeting. We believe the conferences have been instrumental in generating ideas and disseminating information to a greater extent than is possible through more conventional forums.
All participants are expected both to attend the entire conference and to contribute actively to the discussions. The recording/photographing of lectures and presentations is forbidden. As ECI conferences take place in an informal atmosphere, casual clothing is the usual attire.
Smoking is prohibited at ECI conferences and conference functions.