An ECI Conference Series
June 5-10, 2022
Grand Hotel San Michele
Calabria, Italy
Posters should be printed in A0 size, portrait format (84 cm wide by 118 cm high)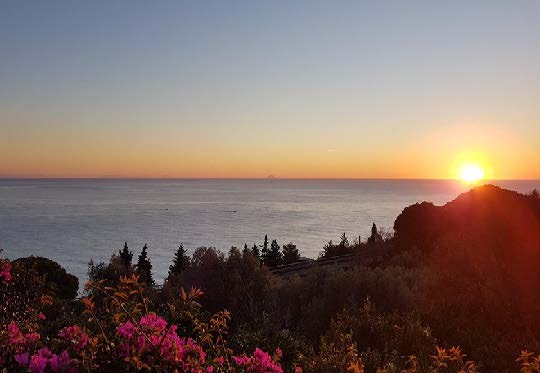 Attendance at this conference is restricted to those fully* vaccinated against Covid-19.
Your registration will not be considered complete until your proof of vaccination is uploaded via the registration portal and verified by ECI staff. Acceptable proof includes copies of a U.S. CDC vaccination card or a certificate/document issued by the relevant health agency in your country of residence along with a government issued photo ID, such as a driver's license or passport. If you have questions about these requirements, please email Kathy@engconfintl.org
* Two doses of an FDA or WHO authorized two dose Covid-19 vaccine, received at least 14 days prior to the conference OR one dose of an FDA or WHO authorized single dose Covid-19 vaccine, received at least 14 days prior to the conference. We strongly suggest the recommended booster as well.
Approved vaccines: Pfizer/BioNTech (2 dose); Moderna (2 dose); Janssen/Johnson & Johnson; Oxford/AstraZeneca; Serum Institute of India-Covishield; Sinopharm (Beijing); Sinovac.
We are all in this together. Thank you for being part of our community and following these policies. We look forward to see you in person very soon.
About This Conference
Building on the success of the 2016 conference held at Grand Hotel San Michele Cetraro, Italy, and that of the 2018 conference held at Comwell Borupgaard, Denmark, this third iteration of the conference will bring together a wide range of delegates from different scientific areas thereby taking a multi-disciplinary approach to assessment of waste and residual resources management in the framework of future sustainable economy.
The conference focuses on methodologies and tools, such as Life Cycle Assessment (LCA), Life Cycle Costing (LCC) and Social Life Cycle Assessment (S-LCA), which allow a fair and reliable comparison between the performances of different waste and residual resource management solutions. Methodological developments related to these approaches will be taken into account together with important case studies.
The program includes keynote speakers, thematic sessions, workshops, and poster sessions. The intention is to stimulate fruitful discussions on innovative ideas and directions to be pursued in future research activities, as well as how these approaches can be transferred to practical application in society.
ECI contact
Ms. Kathy Chan kathy@engconfintl.org
List of Topics
LCA/LCC/S-LCA of municipal and industrial waste management scenarios
LCA/LCC/S-LCA of the management of specific waste streams in a circular economy perspective
LCA/LCC/S-LCA of waste prevention initiatives and product design in a circular economy perspective
LCA/LCC/S-LCA of specific waste technologies and their integration into connected systems (e.g. energy and transport)
LCA/LCC/S-LCA of emerging technologies for waste management and resource optimization
Life Cycle Engineering and Sustainable Manufacturing
Integrated utilization of different assessment tools for waste valorization and resource optimization
Methodological developments in relation to sustainability assessment for waste management and re-source optimization
Effects of legislation and policy on future waste management criteria in a life cycle perspective.
Keynote Speakers
Professor Thomas Christensen (Technical University of Denmark)
Professor Roland Clift (University of British Columbia and University of Surrey)
Professor Antonio Massarutto (University of Udine)
Professor MarziaTraverso (RWTH Aachen University)
Conference Organization
Conference Chairs
Professor Umberto Arena, Full professor of Waste Management and Industrial Pollution Control Engineering, University of Campania "Luigi Vanvitelli", umberto.arena@unicampania.it
Professor Thomas Astrup, Full Professor of Environmental Engineering, Technical University of Denmark, thas@env.dtu.dk
Honorary Chair
Professor Morton Barlaz, Distinguished University Professor and Head Dept. of Civil, Construction and Environmental Engineering, North Carolina State University barlaz@ncsu.edu
Technical Organizing Committee
Dr. Filomena Ardolino (University of Campania "Luigi Vanvitelli", Italy)
Dr. Noemi Arena (Arup, United Kingdom)
Mr. Giovanni Fancesco Cardamone (University of Campania "Luigi Vanvitelli", Italy)
Dr. Concetta Lodato (Technical University of Denmark)
Scientific Advisory Committee
Professor Dezhen Chen (Tongji University, China)
Professor Roland Clift (University of Surrey, UK)
Dr. Anders Damgaard (Technical University of Denmark)
Professor Mario Grosso (Politecnico of Milan, Italy)
Professor Paulo Ferrao (Instituto Superior Técnico, Portugal)
Professor James W. Levis (North Carolina State University, USA)
Professor Lidia Lombardi (University "Niccolò Cusano", Italy)
Professor Antonio Massarutto (University of Udine, Italy)
Ms. Susan Thorneloe (Environmental Protection Agency, USA)
Dr. Davide Tonini (EC-Joint Research Centre, Spain)
Program
Young Researchers Award Winners
Marie Kampmann Eriksen
DTU (Lingby, Denmark)
"Potential Circularity of Plastic in Europe – Dynamic MFA of PET, PE & PP Flows"
Alessandro Dal Pozzo
Studiorum University (Bologna, Italy)
"Evaluation of the cross-media effects of new emission limit values for waste-to-energy plants via a combination of process modeling and life cycle assessment"
Conference Fees
All conference fees are inclusive. They include registration, accommodations (Sunday, Monday, Tuesday, Wednesday and Thursday nights), all meals, excursion, taxes, and gratuities from the reception and dinner on Sunday through lunch on Friday in a standard room. Incidental fees (telephone calls, faxes, spa, laundry, etc.) are billed to your personal account by the hotel.
ALL PARTICIPANTS (INCLUDING MEMBERS OF THE ORGANIZING COMMITTEE AND INVITED SPEAKERS) ARE REQUIRED TO REGISTER.
The conference fees are:


Register

on or before

May 10, 2022
Register

after

May 10, 2022
Participant (single occupancy or sharing room with a guest; guest fee additional)
US $1,860.00
US $2,060.00
Participant (sharing a room with another participant)
US $1,715.00
US 1,915.00
Bona fide Graduate Student (sharing a room with another student) (Those in this category must send proof of current status – copy of current Student ID can be faxed to 1-212-514-6030 or emailed to Kathy@engconfintl.org)
US $1,300.00
US $1,500.00
**Fees for Guest/accompanying person sharing bedroom with single occupancy participant. (Includes all conference included meals as well as the conference excursion)
US $765.00
US $765.00
If you plan to bring children to the conference, please contact Kathy Chan for pricing.
Conference Registration
You will need a login name and password to register for ECI conferences through our online system. If you have been a recent participant at an ECI conference or have submitted an online application or request for information about an ECI Conference, you may already have an account with us. If you know your login information, please use it.
If you are not sure whether you already have a login and password, please click on automated password retrieval and enter your e-mail address before creating a new account. If we don't have a valid email address on file for you, a pop up window will appear stating that no records were found. Click "OK" and then follow the instructions to create a new account. If you have any questions or experience any difficulties, please contact Kathy Chan.
Special Notes and Payment Instructions
We suggest that you register as soon as possible to be certain that you will have a hotel room at the conference rate. Late registrations will be accepted on a space available basis and late registrants may be housed in a nearby hotel.
All participants are encouraged to register before May 10, 2022. There is a discounted price for registering before this date. Hotel space cannot be guaranteed for registrations received after this date. Your registration is not officially confirmed until we receive payment of the amount due. ECI reserves the right to cancel your room registration if payment is not received. Your invoice/receipt will automatically be e-mailed upon of receipt of your registration. Should you need a signed receipt, please contact Kathy Chan (kathy@engconfintl.org).
Because of contractual guarantees made with the hotel for room and meal functions, no shows, late arrivals, missed meals and early departures cannot receive fee adjustments. If you have a disability and may require accommodation in order to participate fully in this conference, please indicate this when you register. An ECI representative will contact you to discuss your specific needs. If you have special dietary requirements (e.g., vegetarian or a food allergy), please make a note on your registration. The chef needs to know this information in advance if we are to accommodate you. ECI will attempt to accommodate special requests such as Kosher or Halal meals, but such meals may not be available at all conference sites. The participant must pay any additional costs for special meal requests to ECI.
Payment must be made by credit card (Visa, MasterCard, and Amex), check or money order drawn on a U.S. bank in U.S. dollars, payable to ENGINEERING CONFERENCES INTERNATIONAL. Checks or money orders in any other currencies are NOT ACCEPTABLE. Payment must be made on the web site except for those who are sending payment by wire transfer or have a purchase order from their company/institution.
WIRE TRANSFER PAYMENT: If you are planning to make payment by wire transfer, please contact ECI for the bank information. You must add $30 to cover ECI bank charges. Please reference your full name and the conference title. Either fax a copy of your bank transfer papers to ECI (Fax: +1-212-514-6030) or email a scanned copy to kathy@engconfintl.org. This is very important – otherwise it is extremely difficult to trace your payment and you may not receive a receipt prior to the conference.
Cancellation Policy: Cancellation must be received by ECI in writing at least 28 days prior to the start of the conference in order for a full refund (less a processing fee) to be considered. The ECI auditors require that refunds for all conference cancellations be processed after the conference so that the necessary back-up information (e.g., hotel list of those in-house) can be attached to the refund request and ECI can verify that the hotel has not charged a cancellation fee.
Cancellation fees:
Cancellations received more than 28 days prior to the conference start date are subject to a processing fee of 4% of the total fee, plus any direct expenses incurred by ECI.
Cancellations received 15 – 28 days prior to the conference start date are subject to a $250 cancellation fee plus any direct expenses incurred by ECI.
Cancellations received 8 – 14 days prior to the conference start date are subject to a $500 cancellation fee plus any direct expenses incurred by ECI.
No refunds will be issued for cancellations received less than 7 days prior to the conference start date.
No refunds will be issued due to inclement weather or travel disruptions/cancellations.
Registrations may be transferred without incurring any penalty or cancellation fee.
Denied or delayed visa
If you will need a visa, please apply for it as soon as possible. If a participant is forced to cancel due to a denied or delayed entry visa, ECI will issue a full refund if ECI has been notified of a potential visa issue at least four weeks prior to the conference start date.
Change of payment method
If an attendee who has already paid the conference fee with a credit card requests that the fee be refunded to that card so that it can be paid in a different manner (e.g., charged to an alternate credit card, or paid via check or bank transfer), a processing fee of 4% of the total fee amount will apply.

Disclaimer
It may be necessary for reasons beyond the control of ECI to alter the content and timing of the program or the identity of the speakers. In the unfortunate circumstance that an event is cancelled, ECI is not liable for any costs incurred by participants in connection with their attendance.

Smoking is prohibited at ECI conferences and conference functions.
Should you have specific questions regarding your registration, please contact Kathy Chan.
Call for Abstracts
Oral and Poster Presentation Submission Deadline: CLOSED
One-page abstract should be submitted as soon as possible and no later than the deadline noted below.
The abstract should include both the significance of the research as well as results that will be discussed in order to allow a scientific assessment of the work by the organizers. Please indicate the topic for which you are submitting your abstract.
This conference will follow the typical ECI conference format, consisting of planned morning and late afternoon / early evening sessions with sufficient free time to be used for ad hoc sessions, networking and discussions among the participants and for small group specific activities.
All persons whose abstracts are accepted will be required to give an oral presentation (that will be of approximately ten minutes) and to prepare a poster for discussion at the poster session during the evening. This will allow intensive discussion of the technical materials presented.
Abstracts should be submitted electronically at https://ssl.linklings.net/conferences/lca.
To update your submission, please log onto your account, go to My Submissions, and click on update to modify your submission.
Publications
Supported by Professors Arena and Barlaz, as Editor-in-Chief and Emeritus Editor of the Waste Management journal, a selection of the best contributions presented at the Conference will be invited to submit manuscripts for a special issue in the Waste Management journal, focused on a topic close to those of the conference.
In any case, this special issue will be open to contributions from outside the conference.
Venue Information
Grand Hotel San Michele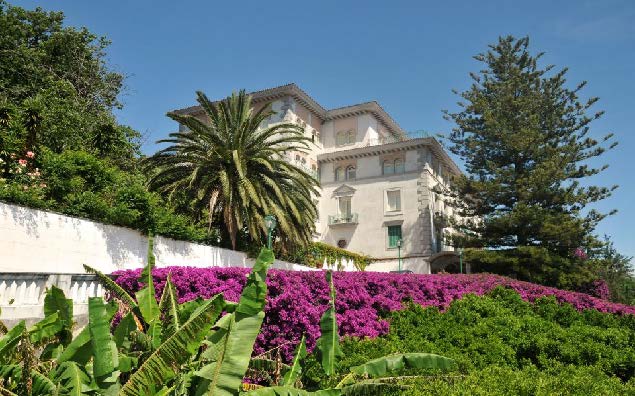 The venue is the Grand Hotel San Michele, located in Cetraro, Calabria, in the South of Italy. The Hotel is in an old mansion and has restaurant inside, and outside of one of the three large terraces, swimming pool, golf course, private beach, convention center, driving range, tennis court, piano bar and billiard room. The hotel is surrounded by an organic farm that provides the hotel with fresh organic food. Its coast location offers many interesting boat excursions.
Accomodation
The maximum number of people that can be hosted in the
hotel is about 80; however, there are other hotels in the
area and the hotel can arrange pickups.
Pre/Post Conference Registration Forms
If you are arriving early or staying after the conference and wish to extend your stay in the conference hotel, please download and complete the Pre/Post Conference Reservation form posted below and send it directly to the conference hotel. ECI does not guarantee or pay for rooms reserved before or after the conference – you must reserve extra nights directly with the hotel and you are responsible for paying the hotel directly for any extra nights.
Transportation to Cetraro
By air
The most convenient airports are Lamezia Terme (87km), Naples (268km) and Rome Fiumicino or Ciampino (~470km). Note that the hotel can arrange for pick-ups from the Lamezia Terme airport. See below.
From Lamezia Terme airport to Paola
The airport is served by Air Baltic, Air France, Delta, KLM, Lufthansa, TAP and others.
Take the bus to Lamezia Terme Centrale train station (travel time 5min, every 30min).
Take the train to Paola (travel time ~30min, every couple of hours).
From Naples International airport to Paola
Take the Alibus to Napoli Centrale train station (travel time 15/20min, every 15/20min).
Take the train to Paola. Travel time: ~2h30 (intercity trains) to ~3h45 (local trains). Frequency: roughly every hour.
From Rome Fiumicino airport to Paola
Take the Leonardo Express train to Rome Termini train station (travel time 32min, every 30min)
Take the train to Paola (either direct or with a change in Naples). Travel time: ~3h to 4h (high-speed trains), ~5h to 5h30 (intercity trains). Frequency: roughly every hour
By train
The nearest major train station is Paola (25km) where all the fast trains make a stop
Italian train tickets can be booked with Trenitalia ( https://www.trenitalia.com/en.html)
If you are arriving by a local train from Naples, you can simply get off directly at Cetraro.
By auto
Use the Motorway Roma – Caserta Sud – Salarno – Lagonegro Nord – Fondo Valle Noce. (293 km)
Shuttle services
Lamezia Airport:
Car (3 pax): euro 100 each way (Single passengers pay full euro 100 rate; two pay 50 euro each)
Minibus (8 pax): euro 134 each way
Paola train station:
Car (3 pax): euro 50 each way
Minibus (8 pax): euro 80 each way
Cetraro Train Station:
Car (3 pax): euro 10 each way
Minibus (8 pax): euro 20 each way
Please note that for night shuttle services (between 1.00 am and 6.00 am) there is a 30€ supplement
Note: To facilitate shared trips to the hotel from the Lamezia Airport and both trains stations, prior to the conference ECI will provide a form for flight/train arrival information.
Ground Transportation Reservation Information
Airline: The conference hotel can arrange transfers from Lamezia Terme Airport (SUF) to the hotel on Sunday, June 5, and transfers from the hotel to the airport on Friday, June 10. The cost will vary depending upon the number of attendees traveling together at the same time. The costs of transfers will be shared among those in the same vehicles. The costs (each way) are:
– Car: 100 € (Up to 3 passengers) (1 passenger is 100 €; 2 passengers are 50 €/ passenger; 3 passengers are 34 €/passenger)
– Minibus: 134 €: (up to 8 passengers – cost shared by number of passengers)
The cost will be billed to your incidental room charges.
Please note that for night shuttle services (between 1.00 am and 5.00 am) there is a 35 € supplement.
Note that if you arriving earlier than June 5 or plan to stay after the conference, the hotel can arrange transportation but most likely it will be on an individual basis.
If you would like to arrange a transfer, please email the following information:
– your name
– your email
– flight arrival and departure dates
– name of Airline, flight numbers, scheduled arrival/departure times
– number of people you are booking
to:
sanmichele@sanmichele.it no later than May 31.
Please note that you are attending the ECI conference from June 5 – 10.
The airport is 75 km from the hotel.
Train: The Paola Railway station is about 21 km from the hotel by ItaliaRail. Please email sanmichele@sanmichele.it by May 31 to arrange for a transfer to the hotel. For those planning to take a train to Cetraro, please note that the hotel transportation is absolutely necessary as there are no taxis in Cetraro.
Auto: Use the Motorway Roma – Caserta Sud – Salarno – Lagonegro Nord – Fondo Valle Noce. (293 km)
Sponsors
CONAI, the Italian Consortium for Packaging, is one of the sponsor of the conference. There are contacts with some other European Institutions and Companies to receive further support. This will be used to facilitate the participation of young scientists from developing countries.
General Information about ECI
Engineering Conferences International (ECI) is a not-for-profit, global engineering conferences program, originally established in 1962 that provides opportunities for the exploration of problems and issues of concern to engineers and scientists from many disciplines.
The format of the conference provides morning and late afternoon or evening sessions in which major presentations are made. Poster sessions will be scheduled for evening discussion as well. Available time is included during the afternoons for ad hoc meetings, informal discussions, and/or recreation. This format is designed to enhance rapport among participants and promote dialogue on the development of the meeting. We believe the conferences have been instrumental in generating ideas and disseminating information to a greater extent than is possible through more conventional forums.
All participants are expected both to attend the entire conference and to contribute actively to the discussions. The recording/photographing of lectures and presentations is forbidden. As ECI conferences take place in an informal atmosphere, casual clothing is the usual attire.
Smoking is prohibited at ECI conferences and conference functions.