June 19-24, 2022
Irsee, Germany
Conference Chairs
Brian Hazel, Pratt & Whitney
Uwe Schulz, German Aerospace Center
Mike Maloney, Pratt & Whitney (retired)
Robert Vassen, Research Center, Julich
Ram Darolia, GE Aviation (retired)
About This Conference
The proposed conference will be sixth in series of conferences sponsored by ECI at Irsee, Germany on Thermal Barrier and Environmental Barrier Coatings. Thermal Barrier Coating (TBC) Systems continue to be a key materials technology that offers great benefit to the operation of gas turbine aircraft engines, gas turbine shipboard engines, land based industrial gas turbine engines, and recently diesel reciprocating engines. More recently Environmental Barrier Coatings (EBCs) that protect silicon based ceramic matrix composites and alloys have become an area of accelerating materials research. It is noteworthy that research in TBCs and EBCs has accelerated greatly in the past twenty years and that this research has resulted in the commercial and military use of new bond coats, low conductivity coatings, coatings that resist degradation induced by environmental deposits ingested into the engine, and the introduction of EBCs into service.
Current research includes development of prime-reliant TBCs, coatings capable of operating at higher temperatures, new reliable and cost-effective manufacturing routes especially in the area of thermal spray, and recently TBCs that will resist reaction with deposits such as CMAS or volcanic ash. A significant area of research is EBCs that protect ceramic matrix composites, new silicide-based materials, and multi-element refractory alloys where the coatings are key for successful introduction of the materials into application. TBC and EBC systems are now key elements in the design of new and advanced engines and are enabling many new designs with improved efficiencies and higher thrusts. Extensive research and development of TBCs and EBCs is being carried out in every major industrialized country by industry, academia, and national institutions and laboratories.
Very successful conferences were sponsored by ECI at Kloster Irsee, Germany during August 17-22, 2003, August 12-17 2007, August 7-12 2011, June 22-27, 2014, and June 24-29, 2018. Over 500 researchers and practitioners in total attended these conferences. Although energy transition led in several countries to reduced research efforts for large stationary gas turbines,
research activity has continued to be strong especially in the aero engine sector and the successful implementation of new and advanced coating systems has been achieved. Several technologies that were in the developmental phase and reported on at previous Conferences are now being deployed and can be discussed.
Thermal barrier and environmental barrier coatings are complex, multi-layered, and multi-material systems with many variants related to composition, processing and microstructure. Further understanding of the science and behavior of these materials that will result in the successful advancement of the technology requires a truly multidisciplinary approach. Here also the progress made within high resolution and scale bridging characterization tools can play a major role. The field has attracted a diverse group of scientists and engineers especially in the USA, Canada, Europe, Australia, Japan and China and combines ceramics, metals, metal-ceramic interfaces, processing, mechanisms of TBC and EBC performance and degradation including environmental attack and oxidation, thermal transport, diffusion and applications in a variety of aggressive environments.
Outline
The conference will address the multi-disciplinary nature of thermal barrier and environmental barrier coatings and will attempt to bring together those who have expertise in specific aspects of the materials involved, processing with conventional and innovative methods, mechanics and chemistry of degradation, newer materials as alternatives to yttria stabilized zirconia, high-temperature oxidation and corrosion including CMAS attack, thermal and radiative heat transport, diffusion, high temperature creep and sintering phenomena as well as engineering design. In addition, the interaction of the various layers with different substrates (Ni-, Co-, Ti-, Silicide-, CMC-based) that cover applications in aero- and land-based gas turbines, diesel engines, and rocket applications will be discussed.
Conference Organization
Brian Hazel (Pratt & Whitney, USA)
Dr. Dan Roth-Fagaraseanu (Rolls-Royce Deutschland, Germany)
Prof. Dr. Robert Vaßen (Forschungszentrum Jülich GmbH, Germany)
Prof. Dr. Uwe Schulz (German Aerospace Center, Germany)
Dr. Michael J. Maloney (Pratt & Whitney – retired, USA)
Prof. Carlos G. Levi (University of California, Santa Barbara, USA)
Dr. Ram Darolia (GE Aviation (Retired), USA)
Call for Abstracts
One-page abstracts should be submitted as soon as possible and no later than the deadlines noted below. The abstract should include both the significance of the research as well as results that will be discussed to allow a scientific assessment of the work by the organizers. Please indicate if the abstract is for an oral or poster presentation. Only a limited number of oral presentation slots are available. Thus all submissions for oral presentations will be considered for both oral and poster.
Deadline for abstracts for oral presentations: December 15, 2021
Deadline for abstracts for poster presentations: December 31, 2021
Please prepared your abstract according to this template: docx or doc.
All abstracts should be submitted electronically and submissions must follow the template provided at this link.
There will be a poster competition for the Best Student Poster and Best Overall Poster.
Venue Information
Nestling in the Alpine Foreland of the Allgäu and located only a few kilometers from walled town of Kaufbeuren, the former Benedictine monastery at Irsee – founded in the 12th century – now houses a modern conference center The magnificent Baroque church and the harmoniously designed four-winged monastery, surrounded by a well-kept park, away from major highways and yet easily reached, is particularly suitable for the conference. The center offers a broad range of leisure activities including a bierstube in the cellar of the monastery and a play room with pool, table tennis and tabletop football. There is also a bocce court, and a sauna available for guests. Nearby are many jogging trails, fitness trails, a tennis center, walking and hiking trails. Across the court from the center is the Irsee brewery where conference attendees can enjoy beer directly from its source. Note that there are no televisions in the bedrooms; however, one may be rented.

The nearest major airport is Franz-Josef Strauss Airport in Munich and their web-link provides a great deal of useful information, including information for booking airport hotels.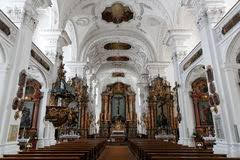 A concert on the historic church organ is being arranged for early Sunday evening. After the concert, conference participants are invited to go to the organ loft and informally meet the organist.
---

Kloster Irsee/Swabian Conference Center at Irsee is a good starting point for excursions and sightseeing tours to the Allgäu Mountains, to Lake Constance, to Austria and Switzerland. For those who plan to extend their stay, popular day-trips are to the Castles of Linderhof and Neuschwanstein (built by the Bavarian King Ludwig II), the scenic Tannheimer Valley and the Pfaffenwinkel with its famous Baroque churches (Wieskirche).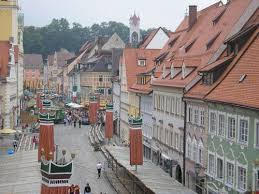 More information about Kloster Irsee can be found at www.kloster-irsee.de
Transportation to Conference Site
The Swabian Conference Center at Irsee is nestled in the Alpine Foreland of the Allgäu, yet is conveniently located near Munich and is easily reached by rail or road. For those traveling from the airport by train, one can reach the Munich Main Station (Hauptbanhof) in several ways: (1) by Lufthansa Airport Bus. Departures are every typically 20 minutes for the 45 minutes trip. Cost is approximately 15 € one- way and 25 € roundtrip. (2) By Rapid Transit Train ("S-ban" – either S1 or S8). Departures are every 20 minutes for the 41 or 45-minute trip. (3) By taxi. The trip takes approximately 40-minutes and the price should be discussed with the driver.
From the Munich Main Station there are through trains to Kaufbeuren (about an hour ride). In front of Kaufbeuren Station there is a taxi stand.
Sponsors
General Information about ECI
Engineering Conferences International (ECI) is a not-for-profit, global engineering conferences program, originally established in 1962 that provides opportunities for the exploration of problems and issues of concern to engineers and scientists from many disciplines.
The format of the conference provides morning and late afternoon or evening sessions in which major presentations are made. Poster sessions will be scheduled for evening discussion as well. Available time is included during the afternoons for ad hoc meetings, informal discussions, and/or recreation. This format is designed to enhance rapport among participants and promote dialogue on the development of the meeting. We believe the conferences have been instrumental in generating ideas and disseminating information to a greater extent than is possible through more conventional forums.
All participants are expected both to attend the entire conference and to contribute actively to the discussions. The recording/photographing of lectures and presentations is forbidden. As ECI conferences take place in an informal atmosphere, casual clothing is the usual attire.
Smoking is prohibited at ECI conferences and conference functions.
Engineering Conferences International
32 Broadway, Suite 314
New York, NY 10004
T: 1-212-514-6760
F: 1-212-514-6030
E-mail: info@engconfintl.org