More information coming soon
For a general overview of this conference, visit our previous Enzyme Engineering XXVI Conference page.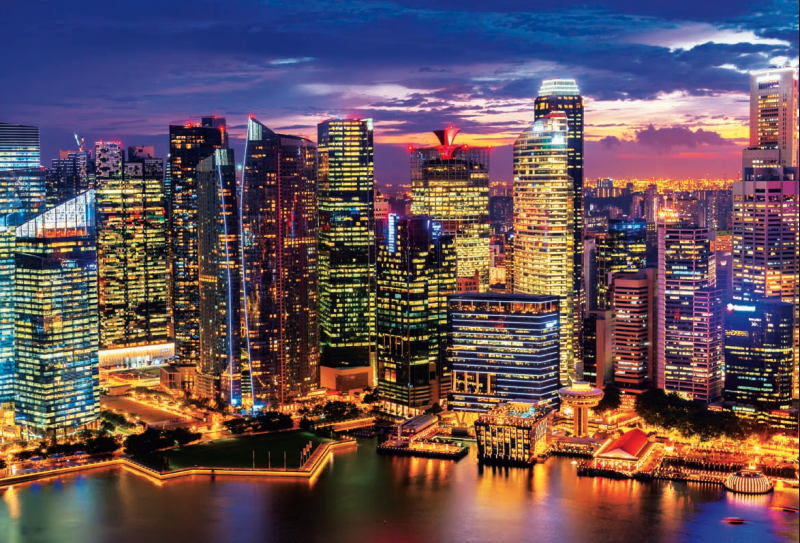 October 1-6, 2023
Singapore
About This Conference
Information coming soon.
Conference Organization
Ang Ee Lui, A*Reseach, Singapore
Li Zhi, National University of Singapore
Yan Feng, Shanghai Jiao Tong University
Keynote Speakers
Session Descriptions
Information coming soon.
Abstracts Submission
Information coming soon.
Enzyme Engineering Award – Call for Nominations
The Award
A piece of Steuben glassware, appropriately engraved for the awardee from Genencor; a certificate, signed and dated by an officer of Engineering Conferences International (ECI), and a financial award of US$3,000 from ECI.
The award will be presented in the names of Engineering Conferences International and Genencor.
The Presentation
The 2023 Award will be presented by the Chairs of the 27th International Conference on Enzyme Engineering in October 2023 in Singapore.
The awardee is to deliver an address during the conference, a requirement for acceptance.
Qualifications
The award is based on any or all of the following:
New discoveries, research, process or device development or methodology relating to scientific or engineering achievements in the area of enzyme engineering.
Outstanding contributions of a scientific or engineering nature in the design, operation or management of facilities, processes or devices based primarily on enzyme engineering.
Distinguished service towards the development and growth of enzyme engineering.
Awardees may be from academic, governmental, industrial, or other organizations anywhere in the world and there are no age restrictions.
Nominations
Nominations are now being accepted. They are to include:
One letter of nomination which is to include:

a. Curriculum vitae (personal data, professional experience, list of publications and patents) of nominee.
b. Record of contributions, with specific evidence of outstanding achievements.
c. Paragraph citing the key factors on which the nomination is based.

Two letters of recommendation.
The complete nomination package should be submitted in an electronic form as a single PDF file with the name of the nominee, and should include the scanned, signed letters of support. This file is to be sent to Barbara@engconfintl.org.
No special forms are required; however, the packet must be complete at the time of submission. Questions should be submitted to Barbara Hickernell at Barbara@engconfintl.org with the subject line 2021 Enzyme Engineering Award Question.
Deadline
The deadline for receipt of completed nomination packets is February 28, 2023.
Selection
The Award Committee will review the nominations and recommend a candidate to the Executive Committee of the Enzyme Engineering Conference for approval.
The Executive Chair of the conference shall notify the nominee in advance of the conference, to ensure his or her willingness to accept the award, be present for its presentation and deliver the required address.
Past Enzyme Engineering Awardees
1971 – HENNIKER, NH, USA
1973 – HENNIKER, NH, USA
1975 – PORTLAND, OR, USA
1977 – BAD NEUENAHR, GERMANY
1979 – HENNIKER, NH, USA
1981 – KASHIKOJIMA, JAPAN
1983 – WHITE HAVEN, PA, USA — ICHIRO CHIBATA
1985 – HELSINGOR, DENMARK — KLAUS MOSBACH
1987 – SANTA BARBARA, CA, USA — EPHRIAM KATCHALSKI-KATZIR
1989 – KASHIKOJIMA, JAPAN — SABURO FUKUI
1991 – KONA, HAWAII, USA — ALEX KLIBANOV
1993 – DEAUVILLE, FRANCE — MALCOLM LILLY
1995 – SAN DIEGO, CA, USA — MARIA-REGINA KULA/ CHRISTIAN WANDREY
1997 – BEIJING, CHINA — HARVEY BLANCH
1999 – KONA, HAWAII, USA — CHI HUEY WONG
2001 – POTSDAM, GERMANY — HIDEAKI YAMADA
2003 – SANTA FE, NM, USA — JON DORDICK/DOUG CLARK
2005 – GYEONG-JU, KOREA — DEWEY RYU
2007 – HARRISON HOT SPRINGS, BC, CANADA — FRANCES H. ARNOLD
2009 – GRONINGEN, THE NETHERLANDS – SAKAYU SHIMIZU
2011 – VAIL, COLORADO, USA – DAVID ESTELL
2013 – TOYAMA, JAPAN – YASUHISA ASANO
2015 – ST. PETERSBURG, FLORIDA, USA – DAN TAWFIK
2017 – TOULOUSE, FRANCE – PIERRE MONSAN
2019 – WHISTLER, CANADA – HUIMIN ZHAO
2022 – DALLAS, TEXAS, USA – UWE BORNSCHEUER
Conference Sponsors
Information coming soon.
Sponsorship Opportunities
Information coming soon.
Past Conferences in This Series
Information coming soon.
Singapore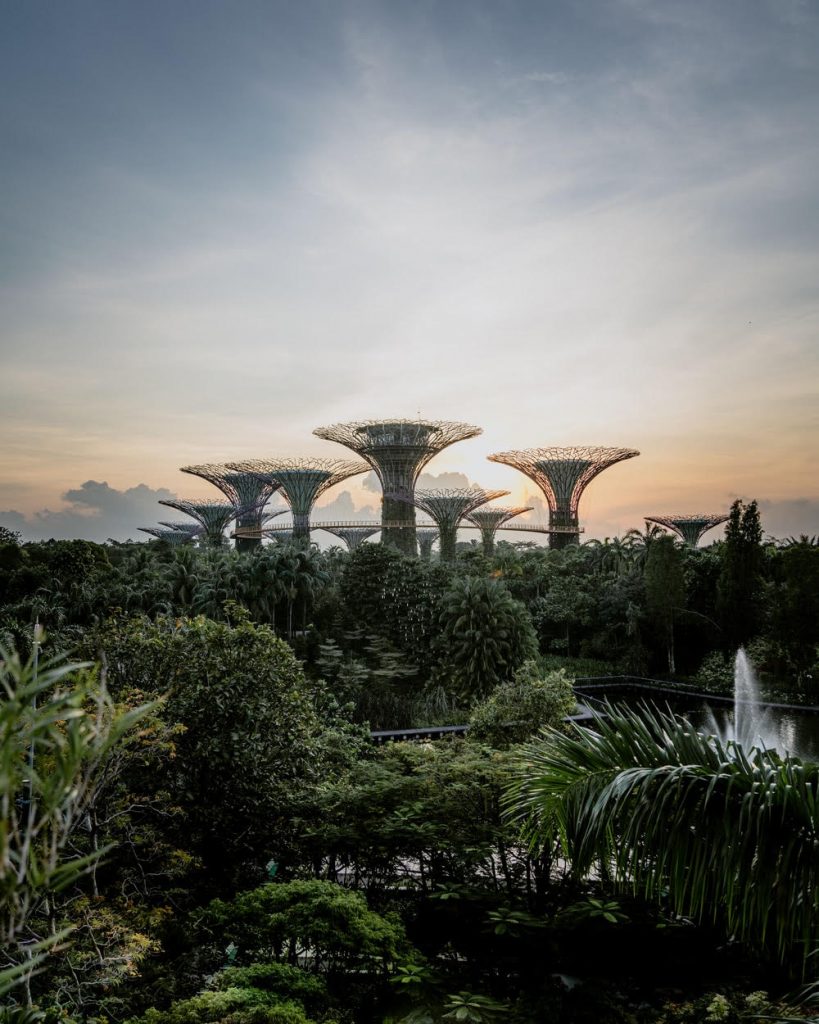 Founded in 1819 as a British trading colony, Singapore declared independence on August 16. Over the next five decades, the country thrived as a financial and trading hub. Through global trade links and the establishment of various Free Trade Agreements, Singapore has become a highly developed market-based economy. Although mostly urbanized, Singapore still retains its Asian charm and heritage. A cosmopolitan city of approximately 5.8 million people, with a multi-ethnic population, Singapore's culture, arts, architecture, hospitality and cuisines all reflect the blend of the East and West.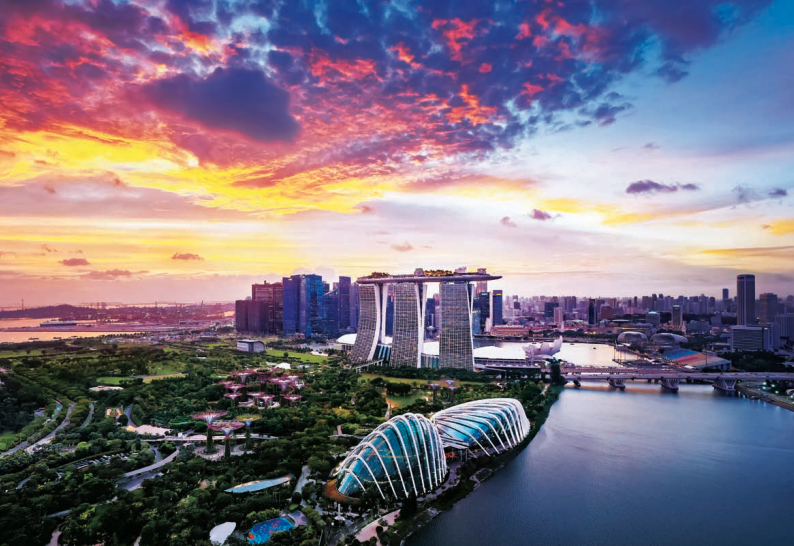 Languages: The four official languages are English, Malay, Mandarin and Tamil. English is the language of administration and is widely spoken throughout Singapore.
Climate: Singapore is warm and humid all year round. Daily temperatures average 28 degrees Celsius. Abundant rainfall can be expected during the monsoon seasons from December to March and from June to September.
Currency: The official currency is the Singapore Dollar (SGD). Most foreign currencies are also accepted in major shopping centers and big department stores.
Electrical Connections: The standard voltage in Singapore is 220 to 240 volts AC, 50 cycles per second. The country uses the type G three-pin power plug, similar to the United Kingdom. Most hotels provide adapters for electrical appliances of a different voltage on request.
Safety: Singapore is one of the safest cities in the world. It is generally safe to walk along the streets late at night. The country's general economic prosperity and professional and effective police force contribute to the low crime rate.
Smoking: Smoking is prohibited in all air-conditioned areas (e.g. shopping centres, restaurants, cinemas, public buses, the MRT subway system, taxis, lifts), common corridors, void decks and staircases within residential buildings, outdoor hospital compounds, as well as within a five-meter radius from any entrance/exit and bus shelter. Within the Orchard Road precinct, smoking is allowed only in Designated Smoking Areas, marked by yellow boxes.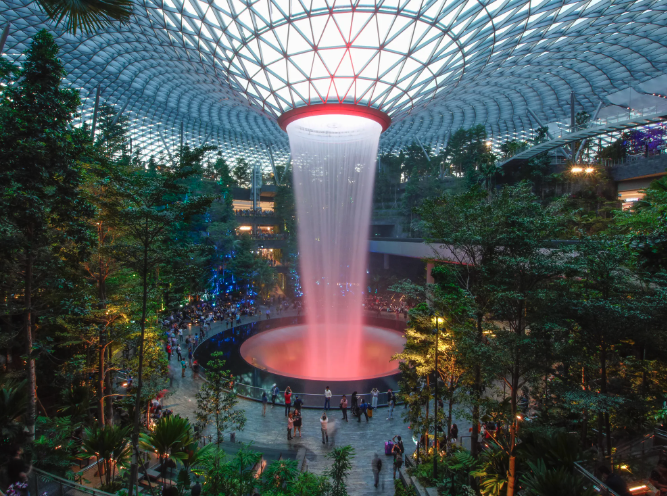 Jewel Changi Airport: Changi Airport services 100 airlines flying to 380 cities in about 100 countries and territories worldwide. Each week, about 7,400 flights land or depart from Changi, with more than 65.6 million passengers passing through the airport every year.
With the opening of entertainment and retail complex at the Jewel Changi Airport in 2019, visitors can enjoy its numerous attractions, shopping and dining facilities. Linked to three passenger terminals, Jewel's highlights include the world's tallest indoor waterfall, an indoor garden spanning five stories and the Changi Experience Studio, with displays and interactive games that showcase Changi's aviation history. For business and transit passengers on the go, Jewel also houses a hotel and lounge to rest and rejuvenate.
Areas to Visit in Singapore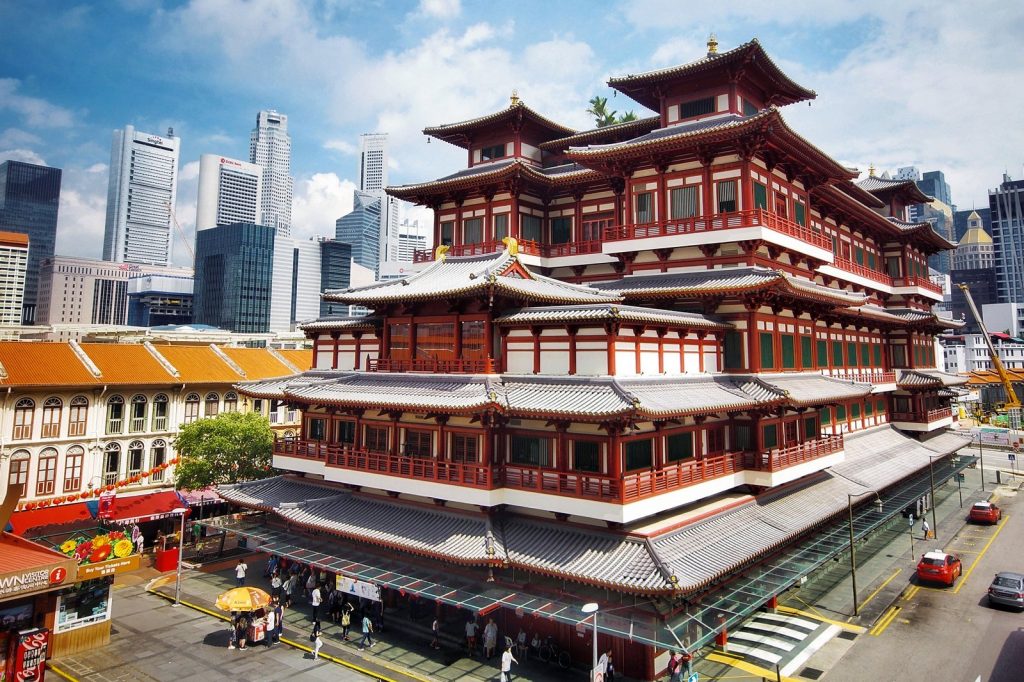 Chinatown Lined with colorful pre-war places to visit, Chinatown is a unique mix of the old and new. Shop for an array of Chinese cultural souvenirs at the street market – from traditional clothing to opera masks. Dine outdoors amid a bustling atmosphere at the nearby Chinatown Food Street or enjoy a meal at Club Street or Keong Saik Road, where chic, urban bars and eateries inhabit the historic architecture.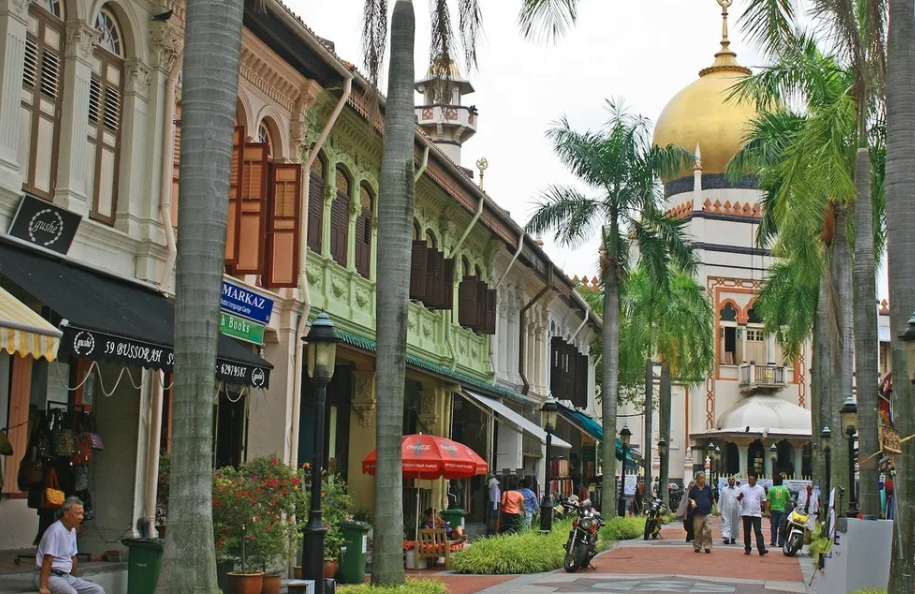 Kampong Gelam Set against rows of Melaleuca Places to visit trees, Kampong Gelam provides a picturesque setting to discover the Malay heritage of Singapore. Begin at the majestic Sultan Mosque to learn about Muslim traditions. Wander through the streets and browse through textiles, perfumes, and Malay artifacts as well as boutique and vintage fashion at Haji Lane; and finish with authentic Malay and Middle Eastern food on Arab Street.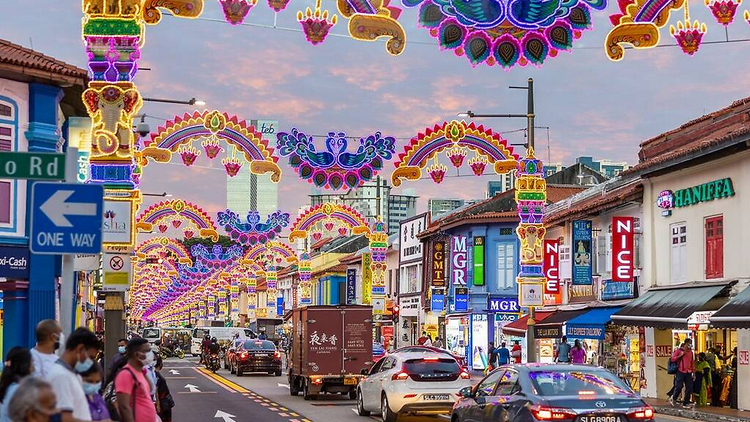 Little India Little India bustles with the sights and sounds of authentic Indian culture. Roam the streets to find reputable North and South Indian restaurants for a taste of true Indian cuisine. Explore the roadsides and alleys and stumble upon textile, incense, and other old trade stalls, and find your way to the Sri Veeramakaliamman Temple, one of the oldest temples in Singapore.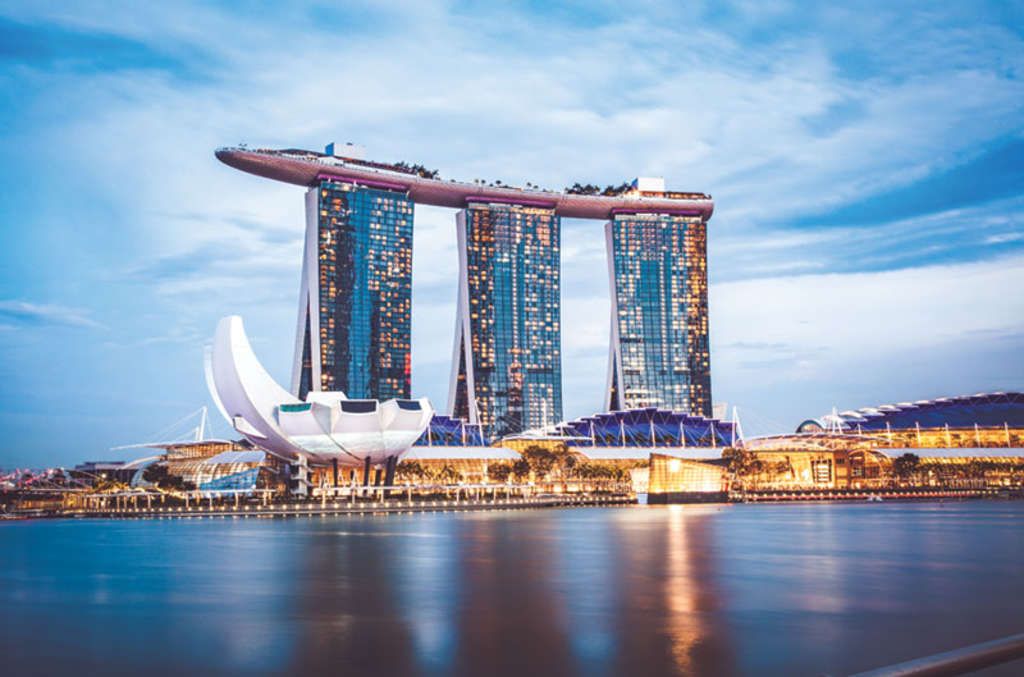 Marina Bay Marina Bay is a symbol of Singapore's urban development. Begin with a leisurely stroll at Gardens by the Bay, or enjoy a breathtaking view of the city from the Singapore Flyer. Then stroll over to the Esplanade – Theatres on the Bay to celebrate the arts.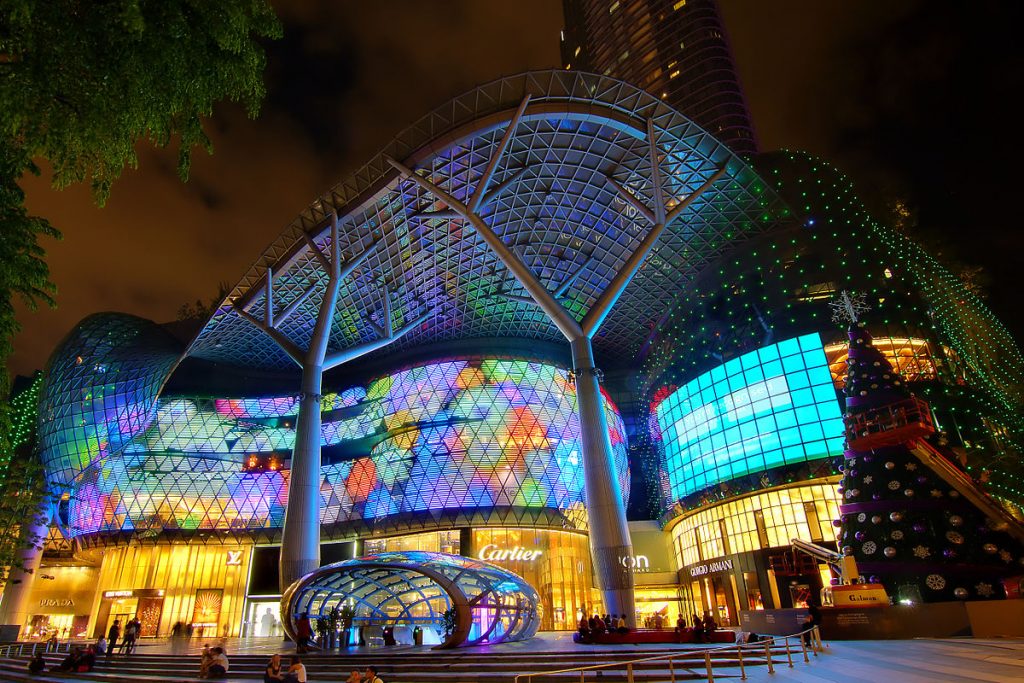 Orchard Road A boulevard of style and luxury, Orchard Road is Singapore's premier shopping district. This 2.2-km belt is lined with distinctive shopping malls, each offering a tempting array of retail, dining and entertainment.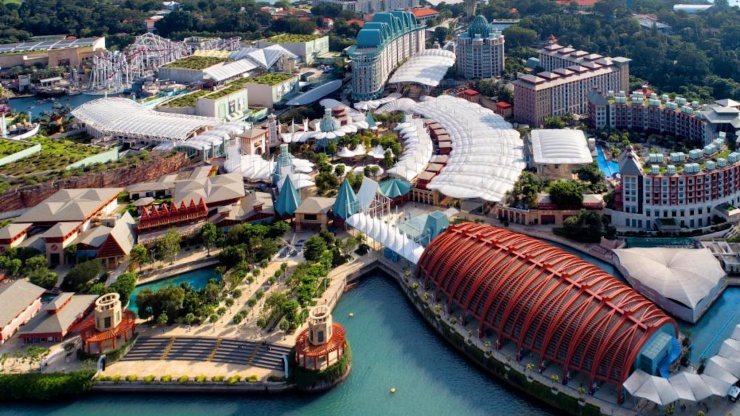 Sentosa With an island-resort vibe, this precinct offers an inviting mix of thrill and idyll. Universal Studios Singapore and S.E.A. Aquarium (one of the world's largest aquariums) are located here along an international golf coursean many top spas. There are breathtaking views while riding the Singapore Cable Car.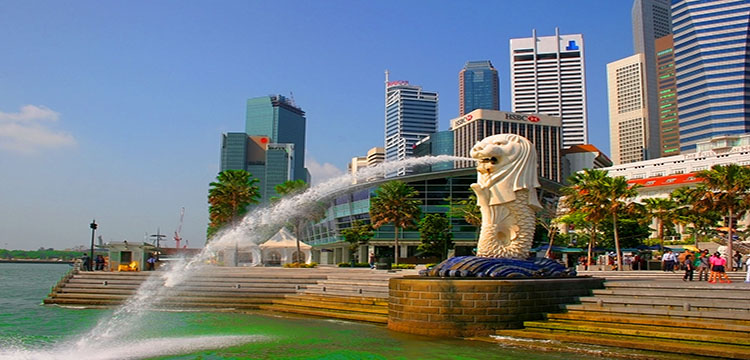 Singapore River With three distinctive quays – Boat Quay, Clarke Quay and Robertson Quay — the Singapore River precinct is one of Singapore's premier waterfront destinations. A leisurely cruise down the pristine waterway takes you past historical and contemporary landmarks. For more information on what each precinct offers, visit www.visitsingapore.com
General Information about ECI
Engineering Conferences International (ECI) is a not-for-profit, global engineering conferences program, originally established in 1962 that provides opportunities for the exploration of problems and issues of concern to engineers and scientists from many disciplines.
The format of the conference provides morning and late afternoon or evening sessions in which major presentations are made. Poster sessions will be scheduled for evening discussion as well. Available time is included during the afternoons for ad hoc meetings, informal discussions, and/or recreation. This format is designed to enhance rapport among participants and promote dialogue on the development of the meeting. We believe the conferences have been instrumental in generating ideas and disseminating information to a greater extent than is possible through more conventional forums.
All participants are expected both to attend the entire conference and to contribute actively to the discussions. The recording/photographing of lectures and presentations is forbidden. As ECI conferences take place in an informal atmosphere, casual clothing is the usual attire.
Smoking is prohibited at ECI conferences and conference functions.