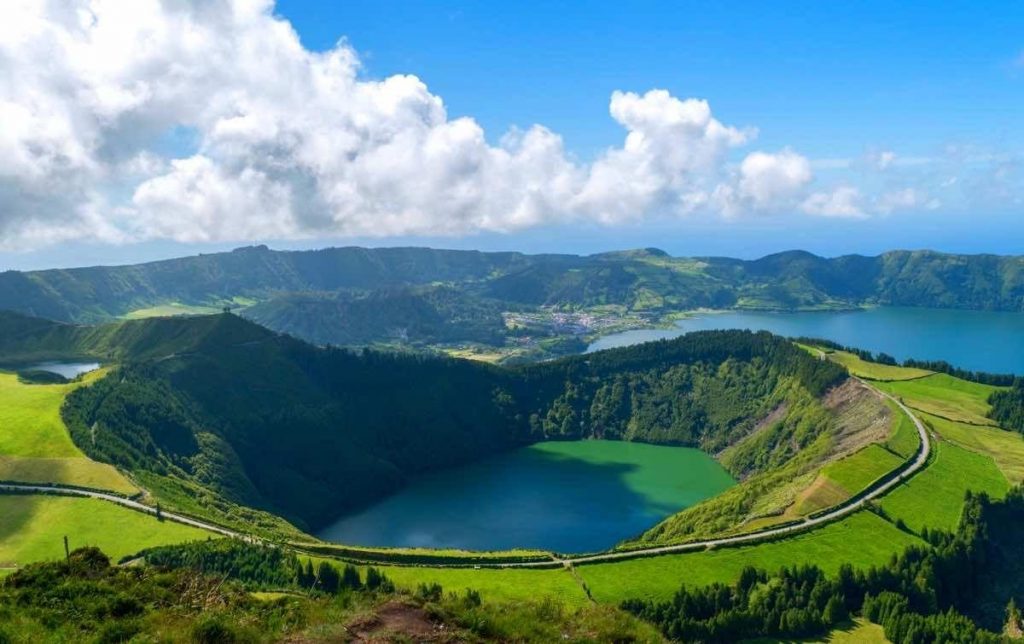 July 24 – 28, 2023
Azores, Portugal
About This Conference
Molecular association in solution, involving self-assembly, precipitation, complex formation etc., is a fundamental process in many areas, ranging from biology to materials science. Resulting structures, being equilibrium states or kinetically trapped, often occur on the colloidal or "nano" length scale, 1 nanometer – 1 micrometer. These resulting colloidal or nanostructures are direct consequences of intermolecular interactions on the shorter, molecular length scale. Hence to understand such systems requires characterization on a wide range of length and time scales, often using a combination of several experimental techniques and computer simulation. This involves also macroscopic length scales, on which very complex viscoelastic flow behavior often can be observed.
Self-assembled nanostructured materials are ubiquitous in a wide range of industries, covering areas such as drug delivery, home & personal care, nanotechnology, foods, coatings etc. For the synthesis of many novel nano-materials self-assembly or controlled precipitation is of fundamental importance. It has been generally recognized that large scale fabrication of such materials cannot be done top-down. They have to be built from bottom-up.
The basic laws of nature, on the molecular length scale are known. What then characterizes contemporary science is the ability to analyze more and more complex systems, driven by access to a steadily increasing computational power and the development of new and sophisticated experimental tools. As a consequence, physics and physical chemistry are expanding into life science, creating new exciting areas like biological physics and colloidal biology.
In this conference, the fifth in the ECI Association in Solution series, we aim to bring together scientists from physics, chemistry, biology and engineering to discuss recent advances in the area of self­assembled and related systems. The conference cuts across key, emerging areas in the biological, chemical, physical sciences along with nano- and micro-scale engineering. The topic is central to many major industries including food, cosmetics and consumer products, pharmaceuticals and energy, e.g. oil and gas production.
Conference Organization
Conference Co-Chairs
Jacinta Conrad, University of Houston
Nghi Lam, ECI Technical Liaison
Call for Abstracts
Coming in 2021.
Venue Information
Conference Venue
The meeting will take place in Ponta Delgada, on São Miguel Island, which is the capital of the Azores archipelago of Portugal. The Azores, an autonomous region of Portugal, are in the mid-Atlantic (about 1,500 km from Lisbon) and are characterized by dramatic landscapes, fishing villages, green pastures and hedgerows of blue hydrangeas. São Miguel is the biggest island of the archipelago, about 62 km in length and about 16 km at its maximum width. More than half of the Azorean population lives on this island.
The Azores islands were discovered or recognized, depending on the historian, in 1427 by Portuguese navigators. The Azores islands were populated in the 15th century by pioneers from Portugal although small groups of Flemings settled in some of the islands. During the 16th and 17th centuries the Azores archipelago was one of the centers of trade between Europe, America and India.
During the Second World War, in 1943, the Portuguese dictator Salazar leased bases in the Azores to the British. This represented a change in policy. Previously the Portuguese government only allowed German U-boats and navy ships to refuel there. This was a key turning point in the Battle of the Atlantic, allowing the Allies to provide aerial coverage in the middle of the Atlantic. This helped them to hunt U-boats and protect convoys.
In 1976, following the Carnation Revolution of 1974, the Azores became an autonomous region within Portugal, along with Madeira, when the a new regional constitution was implemented.
The islands main industries are agriculture, dairy farming, livestock, fishing, and tourism.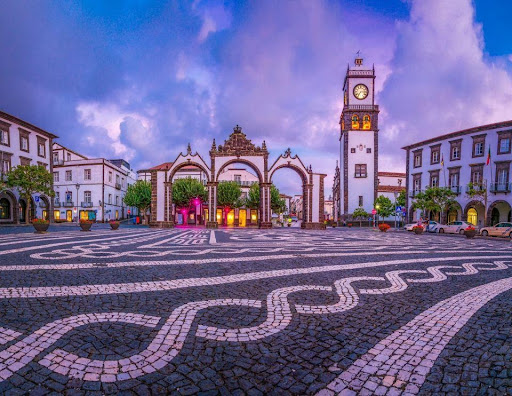 Ponta Delgada is the largest and most visited city in the Azores. White-washed houses and buildings, 17th and 18th Century convents and churches decorate its rolling hills. Cobbled streets and small squares are found around the center of the town. Ponta Delgada is the most developed city in the Azores. It started off as a humble fishing community and gained importance from 1522, following an earthquake that destroyed the island's former capital, Vila Franca do Campo. It was King João III that gave Ponta Delgada its city status in 1546. Throughout the 16th, 17th and 18th centuries, the busy port became an obligatory stopping and supply station for ships en route from the Mediterranean, Portugal and Africa to the Americas and the West Indies.
Sao Miguel's diverse scenery features beautiful lakes, sandy beaches, rolling hills, high mountains, green plains, and blue ocean. Ponta Delgada offers a blend of contemporary life with historic flavor. Sao Miguel monuments, turn of the century architecture, parks, and cobble stone streets are interlaced with a modern marina, nice restaurants, shopping, bars, night-clubs, and oceanfront cafes.
Activities in Sao Miguel include whale watching, swimming with dolphins, walking and trekking, diving, fishing, jeep safaris, bird watching, sailing, snorkeling, swimming, golf and many other outdoor and indoor activities.
Azores and Ponta Delgada links
Visit Ponta Delgada Official Site
Conference Hotel
The conference will be held at the Azoris Royal Garden Hotel, just a 10-minute walk from the Ponta Delgada town center and about a 5-minute drive (3.6 km) from the airport. All the public areas and bedrooms have just finished a complete renovation. The hotel has 193 rooms, with a Zen garden in the central courtyard, ample lounge areas and two swimming pools (indoor and outdoor). There is also a spa for massages, jacuzzi, sauna, Turkish bath, Gym, game center, and tennis court. The hotel has a restaurant, bar and coffee shop as well.
Transportation
The main international hub is the Ponta Delgada (PDL) airport on the island of São Miguel. There are regular flights from Lisbon, Madeira, Gran Canaria, Cape Verde, Frankfurt (Germany), Toronto (Canada), Boston and New York (USA). Taxis as well as public buses are available at the airport for the short drive (3.6 km) to the hotel.
Coming soon.
Sponsors
General Information about ECI
Engineering Conferences International (ECI) is a not-for-profit, global engineering conferences program, originally established in 1962 that provides opportunities for the exploration of problems and issues of concern to engineers and scientists from many disciplines.
The format of the conference provides morning and late afternoon or evening sessions in which major presentations are made. Poster sessions will be scheduled for evening discussion as well. Available time is included during the afternoons for ad hoc meetings, informal discussions, and/or recreation. This format is designed to enhance rapport among participants and promote dialogue on the development of the meeting. We believe the conferences have been instrumental in generating ideas and disseminating information to a greater extent than is possible through more conventional forums.
All participants are expected both to attend the entire conference and to contribute actively to the discussions. The recording/photographing of lectures and presentations is forbidden. As ECI conferences take place in an informal atmosphere, casual clothing is the usual attire.
Smoking is prohibited at ECI conferences and conference functions.