An ECI Conference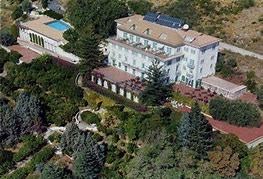 May 23-28, 2021
Calabria, Italy
21AG
About This Conference
Alkali activated materials (AAM) and geopolymers are a class of inorganic polymers formed by the reaction between an alkali and an aluminosilicate source. They can be classified as those made from waste materials such as slag and fly ash, which produce cementitious (CSH) binders or non-stoichiometric geopolymers, and those made from calcined clays such as metakaolin that produce closer to stoichiometric geopolymers, or nanoporous, nanoparticulate crosslinked silicate and aluminate tetrahedra. As seen in NMR the former are Q2 and Q3 bonded tetrahedra and hence basically cementitious materials, while the latter are Q4 bonded tetrahedra and can be referred to as a stoichiometric geopolymers, because upon heating they convert to polycrystalline, stoichiometric, ceramic compounds without the presence of extra glassy phase.
The alkali-activated, cementitious materials have an amorphous structure making them an ideal substitute for Portland cement in a wide range of applications. Many by-products produced by high-volume industries can be used as feedstocks for non-stoichiometric geopolymers and related alkali-activated (or more broadly, chemically-activated), including fly ash, mine tailings, metallurgical slags, and bauxite residues. Alternative compositions closer to compositions of M2O•Al2O3•4SiO2•11H2O where M are Na, K, or Cs Group I elements form stoichiometric geopolymers having different physical and mechanical properties up to ~700-1000°C after which they crystallize into polycrystalline ceramics, depending on the choice of group I alkali.
These materials, particularly as refractory composites, have demonstrated desirable mechanical properties such as flexure strength and toughness, good resistance to acid corrosion, heat and fire resistance up to 1200°C and possibly higher. They have found applications ranging from construction materials, waste immobilisation for environmental and nuclear industries as well as high-tech ceramics and composites such as porous insulators, porous filters for water purification, corrosion resistant metal coatings, 3D and 4D printed forms. Such stoichiometric geopolymers provide versatile, low energy pathways for the synthesis of normal and ultra-high temperature ceramics such as SiC, Si3N4, and SiAlONs as well as mullite (3Al2O3•2SiO2).
The key goal of the conference is to enable the transfer of information between specialists in these disparate areas of science and engineering:
• Significantly reduce Greenhouse gas emissions in construction
• Improve the technical performance of materials used in construction, composites and related products
• Use large volumes of industrial (waste) by-products or low-value natural minerals in place of virgin resources
• Effectively immobilise hazardous, toxic and/or radioactive wastes
• Low energy syntheses of amorphous or crystalline ceramic nanopowders
• Versatile, low energy processing and forming routes for amorphous or polycrystalline ceramics and composites
This 3rd ECI International Conference, "GEOPOLYMERS: Sustainable construction materials and ceramics made under ambient conditions", planned for the year 2021, aims to collect scientific and industrial contributions, to find technical solutions enabling the application of geopolymers and related materials, to reduce waste and emissions in ceramic and cement manufacturing, and to provide high-performance materials.
Those who have undertaken a significant research effort in this direction will be invited from all over the world to join the Conference. This will build from the high attendance and successful outcomes from the first ECI Geopolymers conference, which was held in Hernstein, Austria, in June 2015 and the second ECI Geopolymers conference held in Tomar, Portugal in May 2018.
The further success of this conference series will represent a step toward meeting the global material needs of society with significantly reduced energy requirements as well as ecological impacts.
Conference Organization
Conference Chairs
W.M. Kriven, University of Illinois at Urbana-Champaign, USA
Cristina Leonelli, Universita' degli Studi di Modena e Reggio Emilia, Italy
John L. Provis, University of Sheffield, UK
Aldo R. Boccaccini, University of Erlangen-Nuremberg, Germany

Call for Abstracts
Call for Award Nominations
Venue Information
Sponsors
General Information about ECI
Engineering Conferences International (ECI) is a not-for-profit, global engineering conferences program, originally established in 1962 that provides opportunities for the exploration of problems and issues of concern to engineers and scientists from many disciplines.
The format of the conference provides morning and late afternoon or evening sessions in which major presentations are made. Poster sessions will be scheduled for evening discussion as well. Available time is included during the afternoons for ad hoc meetings, informal discussions, and/or recreation. This format is designed to enhance rapport among participants and promote dialogue on the development of the meeting. We believe the conferences have been instrumental in generating ideas and disseminating information to a greater extent than is possible through more conventional forums.
All participants are expected both to attend the entire conference and to contribute actively to the discussions. The recording/photographing of lectures and presentations is forbidden. As ECI conferences take place in an informal atmosphere, casual clothing is the usual attire.
Smoking is prohibited at ECI conferences and conference functions.
Engineering Conferences International
32 Broadway, Suite 314
New York, NY 10004
T: 1-212-514-6760
F: 1-212-514-6030
E-mail: info@engconfintl.org