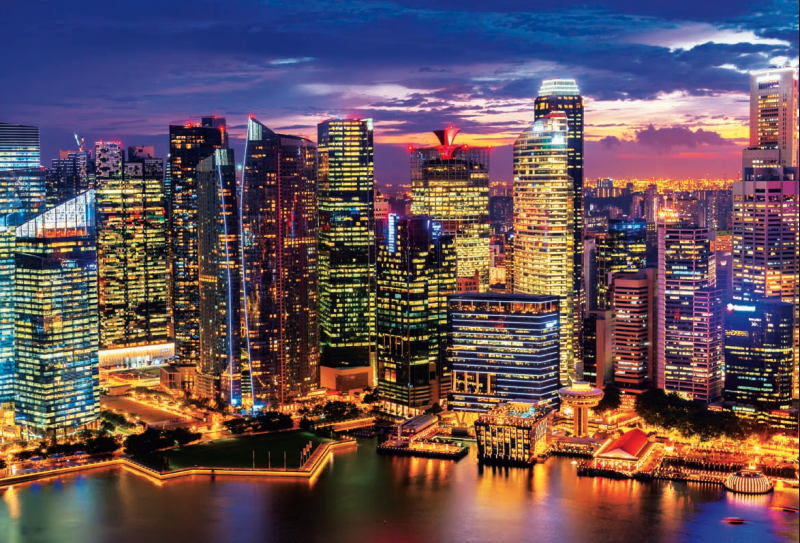 October 1-6, 2023
Singapore
Your poster should be no larger than
1.5 meter high and 1.0 meter wide (Portrait Style)
It's Time to Reimagine Singapore
About This Conference
The Enzyme Engineering Conference is the leading international forum for discussion of enzyme engineering technology and applications. Enzyme Engineering XXVII (October 1- 6, 2023) is the first conference of this series, started in 1971, to be held in Singapore. Experts from around the globe will be on hand to present on a range of topics that should spark stimulating discussions. The specific topics that will be discussed at this meeting should be of interest to experts in the field and those who are just getting started or want to learn how enzyme engineering could be applied to their research.
The specific topics will include:
Computational Tools for Enzyme Engineering
New Technologies for Enzyme Engineering
Novel Enzymes
Enzyme Engineering in Synthetic Biology
Enzyme Engineering for Medical Applications
Process Engineering
Enzyme Engineering for Sustainability
The confirmed speakers to date include:
Ikuro Abe, University of Tokyo, Japan; David Ackerley, Victoria University of Wellington, New Zealand; Yasuhisa Asano, Toyama Prefectural University, Japan; David Baker, University of Washington, US; Andreas Bommarius, Georgia Institute of Technology, US; Uwe Bornscheuer, University of Greifswald, Germany;Stephanie Burton, University of Pretoria, South Africa; Pimchai Chaiyen, Vidyasirimedhi Inistitute of Science and Technology, Thailand; Zixin Deng, Shanghai Jiaotong University, China;. Byung-Gee Kim, Seoul National University, Korea; Zhaoxun Liang, Nanyang Technological University, Singapore; Joelle Pelletier, University of Montreal, Canada; John Woodley, Technical University of Denmark, Denmark; Li-Rong Yang, Zhejiang University, China; Wen Shan Yew, National University of Singapore, Singapore; Huimin Zhao, University of Illinois at Urbana-Champaign, US
We invite the submission of abstracts and hope to see you in Singapore.
Conference Organization
Confirmed Speakers
Session Descriptions
Information coming soon.
Abstracts Submission
One-page abstracts should be submitted as soon as possible and no later than the deadlines noted below. The abstract should include both the significance of the research as well as results that will be discussed in order to allow a scientific assessment of the work by the organizers. Please indicate the two most relevant topics for which you are submitting your abstract and whether the abstract should be considered for an oral or poster presentation.
The specific topics will include:
Computational Tools for Enzyme Engineering
New Technologies for Enzyme Engineering
Novel Enzymes
Enzyme Engineering in Synthetic Biology
Enzyme Engineering for Medical Applications
Process Engineering
Enzyme Engineering for Sustainability
Only a limited number of oral presentation slots are available. Thus all submissions for oral sessions will be considered for both oral and poster presentation.
All abstracts should be submitted electronically.
Please prepare your abstract according to this template: docx or doc.
Deadline for abstracts for oral presentations: July 15, 2023
Deadline for abstracts for poster presentations: September 15, 2023
Awards will be presented for the overall best poster and for the top three student posters.
Enzyme Engineering Award – Call for Nominations
The Award
A piece of Steuben glassware, appropriately engraved for the awardee from Genencor; a certificate, signed and dated by an officer of Engineering Conferences International (ECI), and a financial award of US$3,000 from ECI.
The award will be presented in the names of Engineering Conferences International and Genencor.
The Presentation
The 2023 Award will be presented by the Chairs of the 27th International Conference on Enzyme Engineering in October 2023 in Singapore.
The awardee is to deliver an address during the conference, a requirement for acceptance.
Qualifications
The award is based on any or all of the following:
New discoveries, research, process or device development or methodology relating to scientific or engineering achievements in the area of enzyme engineering.
Outstanding contributions of a scientific or engineering nature in the design, operation or management of facilities, processes or devices based primarily on enzyme engineering.
Distinguished service towards the development and growth of enzyme engineering.
Awardees may be from academic, governmental, industrial, or other organizations anywhere in the world and there are no age restrictions.
Nominations
Nominations are now being accepted. They are to include:
One letter of nomination which is to include:

a. Curriculum vitae (personal data, professional experience, list of publications and patents) of nominee.
b. Record of contributions, with specific evidence of outstanding achievements.
c. Paragraph citing the key factors on which the nomination is based.

Two letters of recommendation.
The complete nomination package should be submitted in an electronic form as a single PDF file with the name of the nominee, and should include the scanned, signed letters of support. This file is to be sent to Barbara@engconfintl.org.
No special forms are required; however, the packet must be complete at the time of submission. Questions should be submitted to Barbara Hickernell at Barbara@engconfintl.org with the subject line 2021 Enzyme Engineering Award Question.
Deadline
The deadline for receipt of completed nomination packets is April 30, 2023.
Selection
The Award Committee will review the nominations and recommend a candidate to the Executive Committee of the Enzyme Engineering Conference for approval.
The Executive Chair of the conference shall notify the nominee in advance of the conference, to ensure his or her willingness to accept the award, be present for its presentation and deliver the required address.
Hak-Sung Kim – 2023 Enzyme Engineering Awardee
The 2023 Enzyme Engineering Award is given to Professor Hak-Sung Kim of the Korea Advanced Institute of Science and Technology (KAIST). Prof. Kim is honored with this award for his sustained groundbreaking research in the field of enzyme technology with a focus on the design of new biocatalysts, development of tools for advancing enzyme engineering, a role of conformational dynamics of enzyme, and integrating biocatalysis with metabolic engineering. His work has led to commercial processes among a large number of innovations, and he has been a leading figure in Korea, across Asia and in the worldwide enzyme technology/biocatalysis community in driving new discoveries and technologies.
Prof. Kim is a key driver in integrating biocatalysis with a wide range of disciplines, including synthetic and analytical chemistry, molecular biology and biochemistry, and metabolic pathway engineering. His publications are of both substance and impact, leading to revolutionary advances in enzyme engineering. He developed a unique methodology to graft functional elements onto enzymes to alter enzyme function, demonstrating the natural evolution process of enzymes. He also integrated molecular dynamics simulations and directed evolution into rational protein design, greatly enhancing the efficiency and success rate beyond independent rational and molecular evolution techniques. In addition, Prof. Kim has developed a wide array of important tools for the enzyme engineer. To advance molecular evolution and enzyme design, he developed an antisense RNA-based high-throughput screening system for directed evolution of quorum-quenching enzymes. This resulted in a significant reduction in false-positive rates, a critical problem in such screening methodologies. This approach resulted in advancing the integration of enzyme engineering with metabolic engineering, particularly the ability to rationally design a specific enzyme in a metabolic pathway to improve product yield.
He is the discoverer of "repebody", which is a repeat protein scaffold consisting of varying numbers of consecutive homologous-structural modules of 20–40 amino acid residues with characteristic secondary structures. Armed with this structural knowledge, Prof. Kim developed repebody-drug conjugates with high selectivity and efficacy toward tumor cells, an immensely important field of emerging therapeutics today. Extending this approach, Prof. Kim targeted very specific disease-based proteins, and recently founded a start-up ProEn Therapeutics, which is targeting disease-related enzymes and tumor associated antigens for developing potential therapeutic agents against various diseases and cancers.

Prof. Kim also integrated enzyme design with complex molecular dynamics tools and demonstrated how protein dynamics dictate the binding and dissociation of a ligand through a single-molecule kinetic analysis of specific enzyme engineered mutants. Such a discovery provided direct evidence that protein conformational dynamics plays a crucial role in ligand binding and dissociation. Based on this finding, Prof. Kim engineered the chorismate-pyruvate lyase to relieve product inhibition by increasing the intrinsic dynamics of the enzyme. Sever product inhibition of the enzyme has limited its practical applications. The engineered enzyme has been successfully integrated into the shikimate pathway of Corynebacterium glutamicum to produce diverse aromatic compounds. Because the role of conformational dynamics in enzyme catalysis is still in early stage of study, those approaches are highly noteworthy in practice.
Prof. Kim has been extremely productive, with 235 peer-reviewed publications and an inventor on 45 international patents/patent applications, many of which have been licensed to companies in Korea and elsewhere, and several leading to commercial processes. He has graduated 62 Ph.D. students, thereby providing a pipeline of researchers in Korea and elsewhere in both academia and industry. Indeed, around 15 of his former Ph.D. students are now faculty members at top universities worldwide, and many former students are CEOs or senior directors at start-up ventures or large corporations. He has also made great contributions to the enzyme engineering profession. He organized the Enzyme Engineering XVIII meeting in 2005, which was the first of such meetings in Korea, and indeed, this meeting resulted in the tremendous growth of biocatalysis in Korea. He has served as president of the Korean Society of Enzyme Engineering. He served as chair of the 13th China-Japan-Korea Joint Symposium on Enzyme Engineering, which promotes collaboration and communication among East Asian enzyme engineering communities and between academia and industry. Finally, closer to home, he has taken on a series of critical leadership roles at KAIST, including serving as Dean of the College of Life Sciences and Bioengineering. Prof. Kim has received a great many awards of recognition from Korean government and KAIST as well as Korea scientific communities.
For these contributions, Engineering Conferences International is proud to award the 2023 Enzyme Engineering Award to Prof. Hak-Sung Kim of KAIST.
Conference Fees and Registration
Conference Fees
The conference fee includes the following: conference registration, access to conference App w/abstracts, accommodations (nights of Sunday (Oct. 1), Monday (Oct. 2), Tuesday (Oct. 3), Wednesday (Oct. 4), Thursday (Oct. 5) and five breakfasts, four lunches, four dinners, and coffee breaks and snacks. Dinner on Wednesday is on your own. The excursion on Wednesday evening (which will include dinner) is optional. Incidental fees (telephone calls, spa, laundry, minibar etc.) are billed to your personal account by the hotel.
Local residents of Singapore who wish to participate in the conference and who will not need a hotel room should contact Kathy Chan.
ALL PARTICIPANTS (INCLUDING MEMBERS OF THE ORGANIZING COMMITTEE AND INVITED SPEAKERS) ARE REQUIRED TO REGISTER.
The conference fees are:
If you plan to bring children to the conference, please contact Kathy Chan for pricing.
Conference Registration
You will need a login name and password to register for ECI conferences through our online system. If you have been a recent participant at an ECI conference or have submitted an online application or request for information about an ECI Conference, you may already have an account with us. If you know your login information, please use it.
If you are not sure whether you already have a login and password, please click on automated password retrieval and enter your e-mail address before creating a new account. If we don't have a valid email address on file for you, a pop-up window will appear stating that no records were found. Click "OK" and then follow the instructions to create a new account. If you have any questions or experience any difficulties, please email Kathy Chan.
Special Notes and Payment Instructions
We suggest that you register as soon as possible to be certain that you will have a hotel room at the conference rate.
All participants are encouraged to register before September 1, 2023. There is a discounted price for registering before this date. Hotel space cannot be guaranteed for registrations received after this date. Your registration is not officially confirmed until we receive payment of the amount due. ECI reserves the right to cancel your room registration if payment is not received or your vaccination proof is invalid. Your invoice/receipt will automatically be e-mailed upon of receipt of your registration. Should you need a signed receipt, please contact Kathy Chan.
Because of contractual guarantees made with the hotel for room and meal functions, no shows, late arrivals, missed meals and early departures cannot receive fee adjustments. If you have a disability and may require accommodation in order to participate fully in this conference, please indicate this when you register. An ECI representative will contact you to discuss your specific needs. If you have special dietary requirements (e.g., vegetarian or a food allergy), please make a note on your registration. The chef needs to know this information in advance if we are to accommodate you. ECI will attempt to accommodate special requests such as Kosher or Halal meals, but such meals may not be available at all conference sites. The participant must pay any additional costs for special meal requests that ECI pays a surcharge for.
Payment must be made by credit card (Visa, MasterCard, and Amex), check or money order drawn on a U.S. bank in U.S. dollars, payable to ENGINEERING CONFERENCES INTERNATIONAL. Checks or money orders in any other currencies are NOT ACCEPTABLE. Payment must be made on the web site except for those who are sending payment by wire transfer or have a purchase order from their company/institution.
WIRE TRANSFER PAYMENT: If you are planning to make payment by wire transfer, please contact Kathy Chan for the bank information. You must add $30 to cover ECI bank charges. Please reference your full name and the conference title. Please email a scanned copy to Kathy Chan. This is very important – otherwise it is extremely difficult to trace your payment and you may not receive a receipt prior to the conference.
Cancellation Policy: Cancellation must be received by ECI in writing at least 28 days prior to the start of the conference in order for a full refund (less a processing fee) to be considered. The ECI auditors require that refunds for all conference cancellations be processed after the conference so that the necessary back-up information (e.g., hotel list of those in-house) can be attached to the refund request and ECI can verify that the hotel has not charged a cancellation fee.
Cancellation fees:
Cancellations received more than 28 days prior to the conference start date are subject to a processing fee of 4% of the total fee, plus any direct expenses incurred by ECI.
Cancellations received 15 – 28 days prior to the conference start date are subject to a $250 cancellation fee plus any direct expenses incurred by ECI.
Cancellations received 8 – 14 days prior to the conference start date are subject to a $500 cancellation fee plus any direct expenses incurred by ECI.
No refunds will be issued for cancellations received less than 7 days prior to the conference start date.
No refunds will be issued due to inclement weather or travel disruptions/cancellations.
Registrations may be transferred without incurring any penalty or cancellation fee.
Denied or delayed visa
If a participant is forced to cancel due to a denied or delayed entry visa, ECI will issue a full refund if ECI has been notified of a potential visa issue at least four weeks prior to the conference start date.
Change of payment method
If an attendee who has already paid the conference fee with a credit card requests that the fee be refunded to that card so that it can be paid in a different manner (e.g., charged to an alternate credit card, or paid via check or bank transfer), a processing fee of 4% of the total fee amount will apply.
Disclaimer
It may be necessary for reasons beyond the control of ECI to alter the content and timing of the program or the identity of the speakers. In the unfortunate circumstance that an event is cancelled, ECI is not liable for any costs incurred by participants in connection with their attendance.
Smoking is prohibited at ECI conferences and conference functions.
Should you have specific questions regarding your registration, please contact Kathy Chan.
The Engineering Conferences International conferences calendar and other information can be found on the ECI web site: www.engconfintl.org
Pre and Post Conference Hotel Reservation Form
If you are arriving early or staying after the conference and wish to extend your stay in the conference hotel, please download and complete the Pre/Post Conference Reservation form posted below and send it directly to the conference hotel. ECI does not guarantee or pay for rooms reserved before or after the conference – you must reserve extra nights directly with the hotel and you are responsible for paying the hotel directly for any extra nights.
Past Enzyme Engineering Awardees
1971 – HENNIKER, NH, USA
1973 – HENNIKER, NH, USA
1975 – PORTLAND, OR, USA
1977 – BAD NEUENAHR, GERMANY
1979 – HENNIKER, NH, USA
1981 – KASHIKOJIMA, JAPAN
1983 – WHITE HAVEN, PA, USA — ICHIRO CHIBATA
1985 – HELSINGOR, DENMARK — KLAUS MOSBACH
1987 – SANTA BARBARA, CA, USA — EPHRIAM KATCHALSKI-KATZIR
1989 – KASHIKOJIMA, JAPAN — SABURO FUKUI
1991 – KONA, HAWAII, USA — ALEX KLIBANOV
1993 – DEAUVILLE, FRANCE — MALCOLM LILLY
1995 – SAN DIEGO, CA, USA — MARIA-REGINA KULA/ CHRISTIAN WANDREY
1997 – BEIJING, CHINA — HARVEY BLANCH
1999 – KONA, HAWAII, USA — CHI HUEY WONG
2001 – POTSDAM, GERMANY — HIDEAKI YAMADA
2003 – SANTA FE, NM, USA — JON DORDICK/DOUG CLARK
2005 – GYEONG-JU, KOREA — DEWEY RYU
2007 – HARRISON HOT SPRINGS, BC, CANADA — FRANCES H. ARNOLD
2009 – GRONINGEN, THE NETHERLANDS – SAKAYU SHIMIZU
2011 – VAIL, COLORADO, USA – DAVID ESTELL
2013 – TOYAMA, JAPAN – YASUHISA ASANO
2015 – ST. PETERSBURG, FLORIDA, USA – DAN TAWFIK
2017 – TOULOUSE, FRANCE – PIERRE MONSAN
2019 – WHISTLER, CANADA – HUIMIN ZHAO
2022 – DALLAS, TEXAS, USA – UWE BORNSCHEUER
Conference Sponsors
Sponsorship Opportunities
Package A: $1,500
Name of Company on Sponsor List in Program
Company Logo displayed on screen between sessions
Package B: $3,000
Half-page ad in digital program
Name of Company on Sponsor List in Program
Company Logo displayed on screen between sessions
Package C: $5,000
Full page ad in digital program
Sponsor a Coffee Break
Name of Company on Sponsor List in Program
Company logo & link on conference website
Company Logo displayed on screen between sessions
Package D: $7,500
Sponsor a Scientific Session or Workshop including oral introduction
Full page ad in digital program
Name of Company on Sponsor List in Program
Company logo & link on conference website
Company Logo displayed on screen between sessions
Package E: $10,000
Table of company information
Full page ad in digital program
Name of Company on Sponsor List in Program
Company logo & link on conference website
Company Logo displayed on screen between sessions
Package F: $20,000
Table of company information
Company information packet available in attendees' registration materials • Company logo and link on conference website
Full page ad in digital program
Company logo displayed on screen between sessions
Name of company on sponsor list in program
ECI Associate Director Kevin Korpics (kevin@engconfintl.org, +1-212-514-6760) may be contacted for invoicing and questions. Payment can be made via bank transfer, check or credit card. Note that a 3.5% transaction fee applies to contributions made by credit card. Please note that none of the sponsor packages include any free or discounted registrations for attendees from sponsor companies.
Past Conferences in This Series
Enzyme Engineering
August 9-13, 1971
New England College, Henniker, New Hampshire
Conference Chair:
L.B. Wingard, Jr., SUNY Buffalo
Enzyme Engineering II
August 5-10, 1973
New England College, Henniker, New Hampshire
Conference Chairs:
L. B. Wingard, Jr., University of Pittsburgh
E. K. Pye, University of Pennsylvania
Enzyme Engineering III
August 3-8, 1975
Reed College, Portland, Oregon
Conference Chairs:
E. K. Pye, University of Pennsylvania
Howard H. Weetall, Corning Glass Works
Enzyme Engineering IV
September 25–30, 1977
Bad Neuenahr, W. Germany
Conference Chairs:
G. Manecke, der Freie Universität Berlin
L. B. Wingard, Jr., University of Pittsburgh

Enzyme Engineering V
July 29-August 3, 1979
New England College, Henniker, New Hampshire
Conference Chairs:
Howard H. Weetall, Corning Glass Works
G. P. Royer, University of Delaware
Enzyme Engineering VI
September 20-26, 1981
Kashikojima, Japan
Conference Chairs:
S. Fukui, Kyoto University
I. Chibata, Tanabe Seiyaku Co.
Enzyme Engineering VII
September 25-30, 1983
White Haven, Pennsylvania
Conference Chair:
Allen I. Laskin, Exxon Research & Eng. Co.
Enzyme Engineering VIII
September 22-27, 1985
Elsinor, Denmark
Conference Chair:
Klaus Mosbach, University of Lund
Enzyme Engineering IX
October 4-9, 1987
Santa Barbara, California
Conference Chairs:
Harvey W. Blanch, University of California, Berkeley
Alexander M. Klibanov, Massachusetts Institute of Technology
Enzyme Engineering X
September 24-29, 1989
Kashikojima, Japan
Conference Chair:
H. Okada, University of Osaka
Enzyme Engineering XI
September 22-27, 1991
Kona, Hawaii
Conference Chairs:
David A. Estell, Genencor
Douglas S. Clark, University of California, Berkeley
Enzyme Engineering XII
September 19-24, 1993
Deauville, France
Conference Chairs:
Daniel Thomas, University of Technology of Compiègne
Marie Dominique Legoy, University of Technology of Compiègne
Enzyme Engineering XIII
October 15-20, 1995
San Diego, California
Conference Chairs:
Jon Dordick, University of Iowa
Alan Russell, University of Pittsburgh
Enzyme Engineering XIV
October 12-17, 1997
Beijing, China
Conference Chairs:
Yao-Ting Yu, Nankai University
Gao-Xiang Li, Academia Sinica
Enzyme Engineering XV
October 10-15, 1999
Kailua-Kona, Hawaii
Conference Chairs:
David Anton, DuPont
Frances H. Arnold, California Institute of Technology
Robert Kelly, North Carolina State University

Enzyme Engineering XVI
October 7-12, 2001
Potsdam, Germany
Conference Chairs:
Frieder W. Scheller, University of Potsdam
Christian Wandrey, Research Center Jülich
Oreste Ghisalba, Novartis Pharma AG
Enzyme Engineering XVII
November 9-14, 2003
Santa Fe, New Mexico
Conference Chairs:
Stephen Benkovic, Pennsylvania State University
Chi-Huey Wong, Scripps Research Institute
Jeffrey Moore, Merck & Co., Inc.
Birgit Kosjek, Merck & Co., Inc.

Enzyme Engineering XVIII
October 9-14, 2005
Gyeong-ju, Korea
Conference Chairs:
Hak-Sung Kim, KAIST, Korea
Ji-Yong Song, LG Life Sciences, Ltd, Korea
Tae-Kwang Oh, Korea Research Inst.of Biosciences & Biotech, Korea
Moon-Hee Sung, Kookmin University, Korea

Enzyme Engineering XIX
September 23-28, 2007
British Columbia, Canada
Conference Chairs:
Romas Kazlauskas, University of Minnesota
Stefan Lutz, Emory University
David Estell, Danisco/Genencor

Enzyme Engineering XX
September 20-24, 2009
Groningen, the Netherlands
Conference Chairs:
Dick Janssen, University of Groninger
Oliver May, DSM Pharmaceutical Products
Andreas Bommarius, Georgia Institute of Technology
Enzyme Engineering XXI
September 18-22, 2011
Vail, Colorado
Conference Chairs:
Lori Giver, Codexis
Steve Withers, University of British Columbia

Enzyme Engineering XXII
September 22-26, 2013
Toyama, Japan
Conference Chairs:
Yasuhisa Asano, Toyama Prefectural University
Jun Ogawa, Kyoto University
Yoshihiko Yasohara, Keneka Corp.
Enzyme Engineering XXIII
September 6-11, 2015
St. Petersburg, Florida, USA
Conference Chairs:
Jon Dale Stewart, University of Florida
Robert DiCosimo, DuPont Industrial Biosciences
Enzyme Engineering XXIV
September 24-28, 2017
Toulouse, France
Conference Chairs:|
Pierre Monsan, Toulouse White Biotechnology, France
Magali Remaud-Simeon, LISBP-INSA, University of Toulouse, France
Enzyme Engineering XXV
October 15-19, 2019
Whistler, British Columbia, Canada
Conference Chairs:
Huimin Zhao, University of Illinois at Urbana-Champaign, USA
John Wo
Enzyme Engineering XXVI
May 22-27, 2022
Dallas/Fort Worth, Texas, USA
Conference Chairs:
Andy Bommarius, Georgia Institute of Technology, USA
Vesna Mitchell, Codexis, USA
Doug Fuerst, GSK, USA
Hotel Information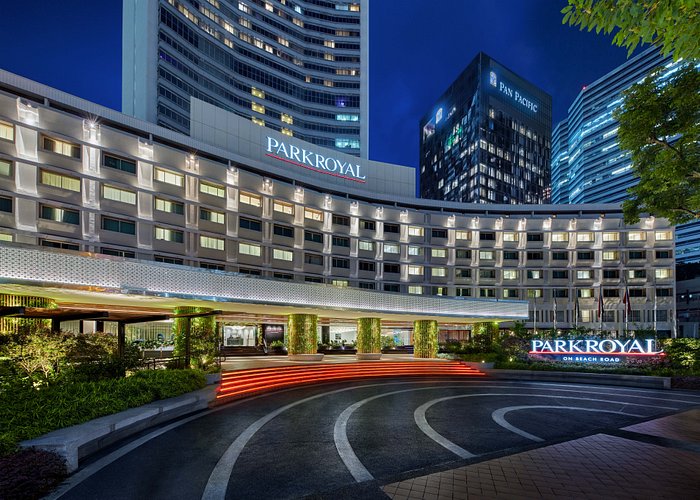 ParkRoyal Hotel Beach Road
7500 Beach Road
Singapore 199591
Located at one of Singapore's cultural enclaves, the 346-room ParkRoyal on Beach Road is adjacent to the famous Haji Lane (Possibly the narrowest street in Singapore, this back alley is filled with shophouses built in the 19th century that are now homes to quaint little cafes, cool bars, lifestyle shops and indie boutiques with fascinating graffiti walls). With easy access to two nearby MRT stations, the hotel is just minutes away from the Central Business District, the Singapore Sports Hub and all other key destinations in the island. It is contemporary in design and features the latest technology. Guests may also enjoy a wide variety of cuisines at the hotel, ranging from authentic Sichuan dishes, dim sum and tea appreciation at Tian Fu Tea Room, to a popular local and international cuisines at Ginger.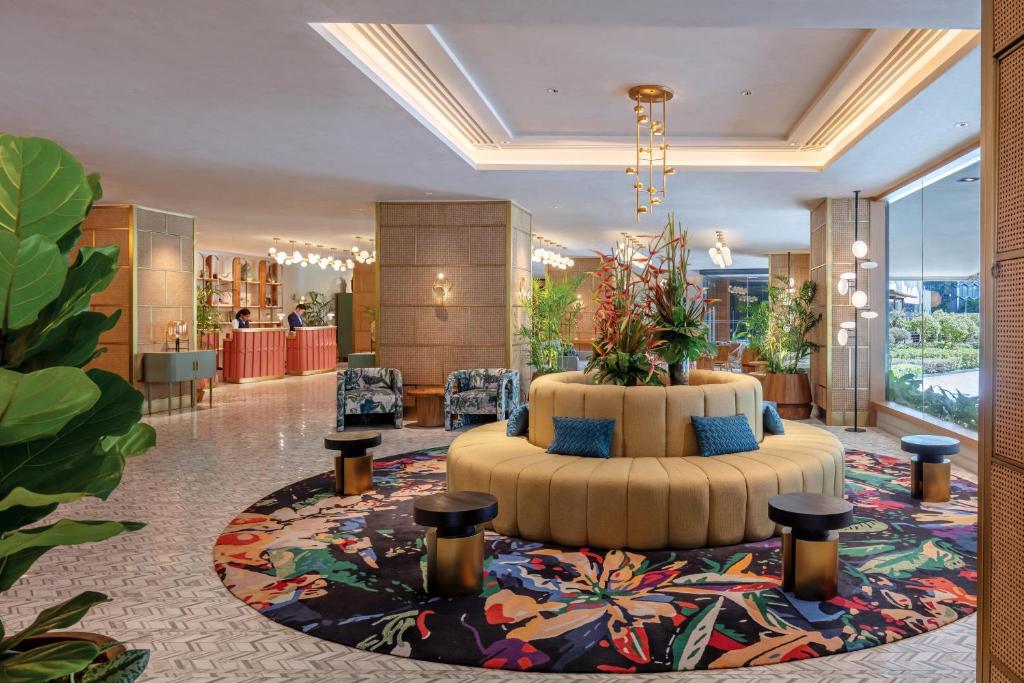 The hotel is also home to the flagship St. Gregory spa located at the hotel's dedicated Wellness Floor, a fully equipped gym, a fitness studio and a sprawling swimming pool with a scenic city skyline as its backdrop. The bedrooms feature high-speed broadband Internet access, cable/satellite TV, coffee/tea makers, air conditioning and daily housekeeping, a desk, safe and iron/ironing board. Room service is available and there is paid parking.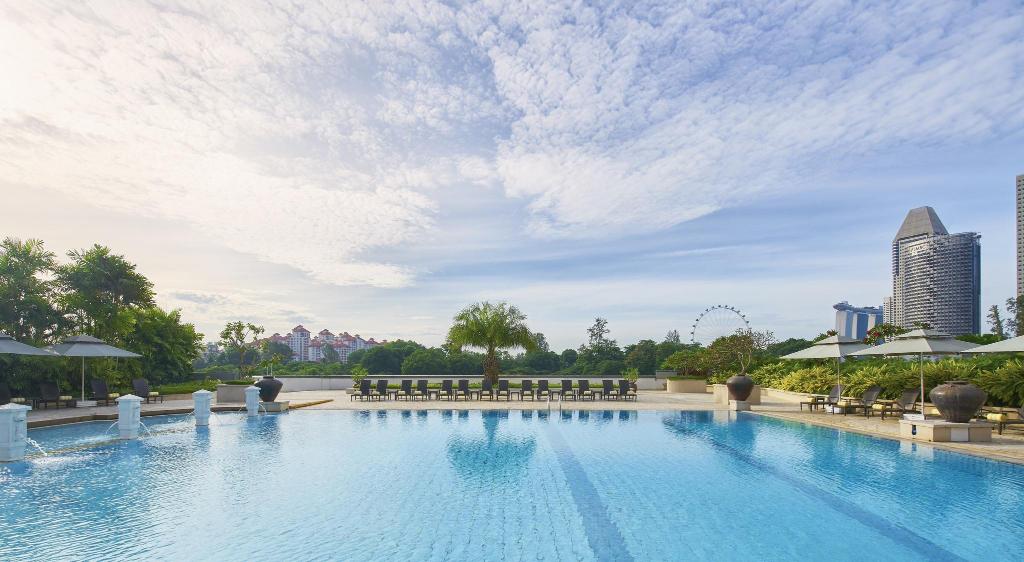 Singapore
Singapore Travel Tips – a Video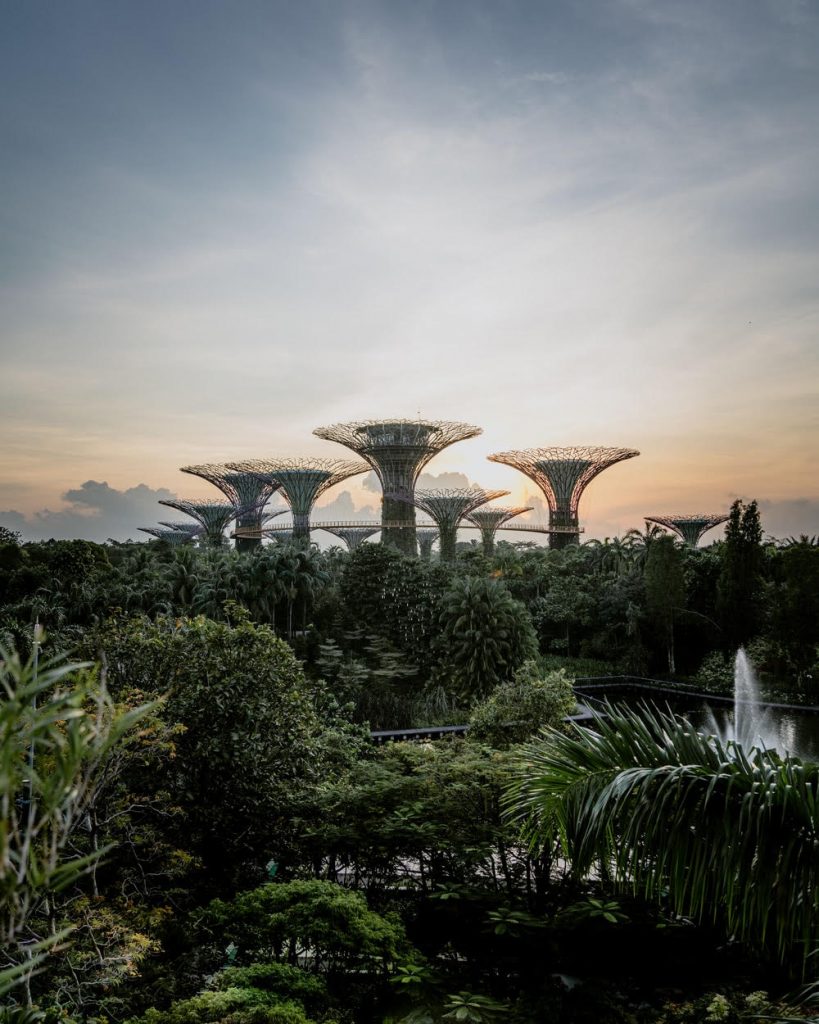 Founded in 1819 as a British trading colony, Singapore declared independence on August 16. Over the next five decades, the country thrived as a financial and trading hub. Through global trade links and the establishment of various Free Trade Agreements, Singapore has become a highly developed market-based economy. Although mostly urbanized, Singapore still retains its Asian charm and heritage. A cosmopolitan city of approximately 5.8 million people, with a multi-ethnic population, Singapore's culture, arts, architecture, hospitality and cuisines all reflect the blend of the East and West.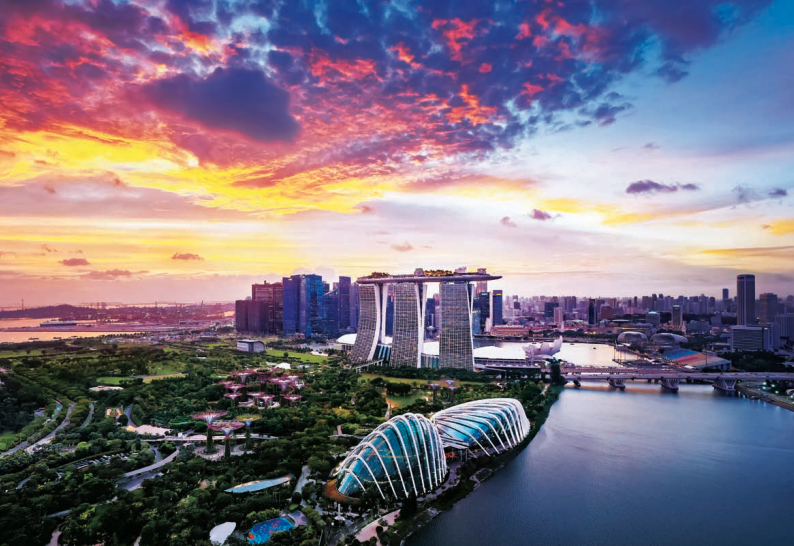 Languages: The four official languages are English, Malay, Mandarin and Tamil. English is the language of administration and is widely spoken throughout Singapore.
Climate: Singapore is warm and humid all year round. Daily temperatures average 28 degrees Celsius. Abundant rainfall can be expected during the monsoon seasons from December to March and from June to September.
Currency: The official currency is the Singapore Dollar (SGD). Most foreign currencies are also accepted in major shopping centers and big department stores.
Electrical Connections: The standard voltage in Singapore is 220 to 240 volts AC, 50 cycles per second. The country uses the type G three-pin power plug, similar to the United Kingdom. Most hotels provide adapters for electrical appliances of a different voltage on request.
Safety: Singapore is one of the safest cities in the world. It is generally safe to walk along the streets late at night. The country's general economic prosperity and professional and effective police force contribute to the low crime rate.
Smoking: Smoking is prohibited in all air-conditioned areas (e.g. shopping centres, restaurants, cinemas, public buses, the MRT subway system, taxis, lifts), common corridors, void decks and staircases within residential buildings, outdoor hospital compounds, as well as within a five-meter radius from any entrance/exit and bus shelter. Within the Orchard Road precinct, smoking is allowed only in Designated Smoking Areas, marked by yellow boxes.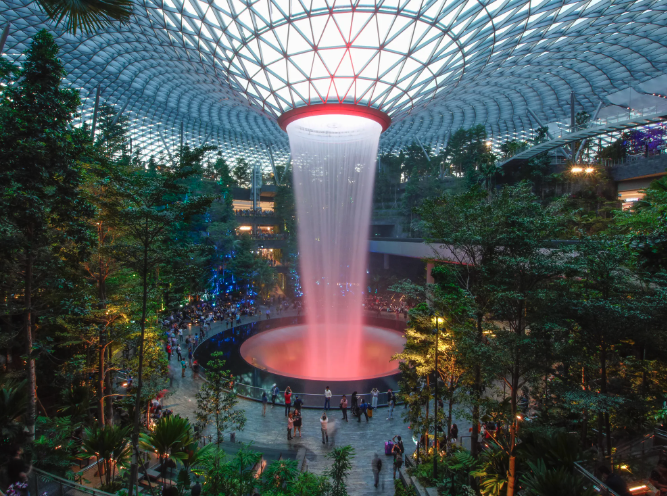 Jewel Changi Airport: Changi Airport services 100 airlines flying to 380 cities in about 100 countries and territories worldwide. Each week, about 7,400 flights land or depart from Changi, with more than 65.6 million passengers passing through the airport every year.
With the opening of entertainment and retail complex at the Jewel Changi Airport in 2019, visitors can enjoy its numerous attractions, shopping and dining facilities. Linked to three passenger terminals, Jewel's highlights include the world's tallest indoor waterfall, an indoor garden spanning five stories and the Changi Experience Studio, with displays and interactive games that showcase Changi's aviation history. For business and transit passengers on the go, Jewel also houses a hotel and lounge to rest and rejuvenate.
Areas to Visit in Singapore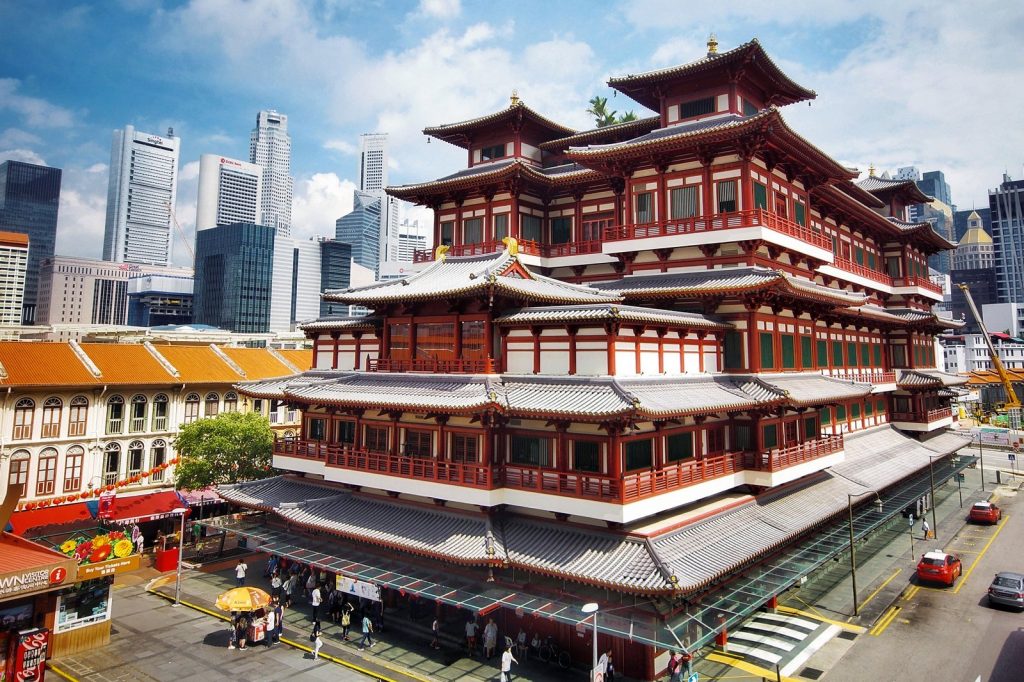 Chinatown Lined with colorful pre-war places to visit, Chinatown is a unique mix of the old and new. Shop for an array of Chinese cultural souvenirs at the street market – from traditional clothing to opera masks. Dine outdoors amid a bustling atmosphere at the nearby Chinatown Food Street or enjoy a meal at Club Street or Keong Saik Road, where chic, urban bars and eateries inhabit the historic architecture.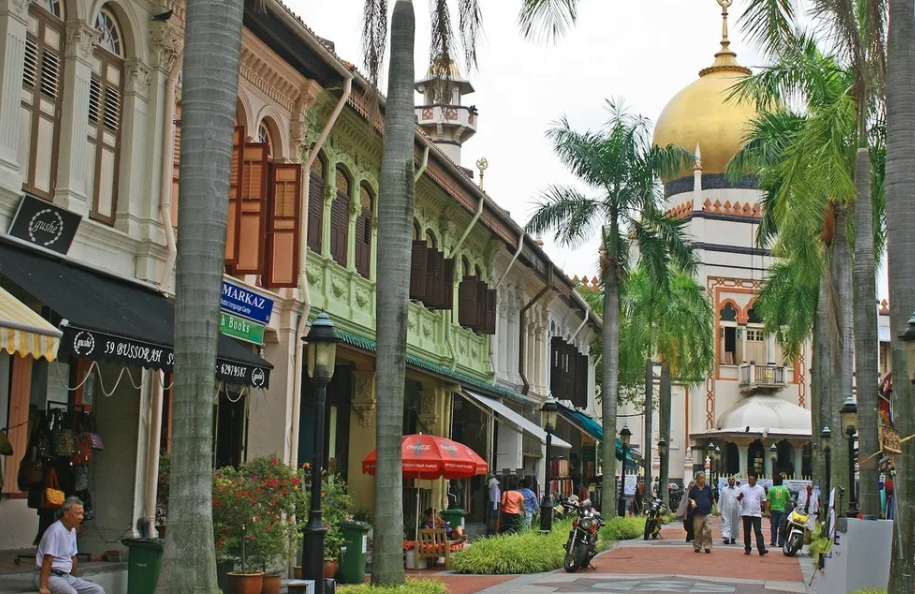 Kampong Gelam Set against rows of Melaleuca Places to visit trees, Kampong Gelam provides a picturesque setting to discover the Malay heritage of Singapore. Begin at the majestic Sultan Mosque to learn about Muslim traditions. Wander through the streets and browse through textiles, perfumes, and Malay artifacts as well as boutique and vintage fashion at Haji Lane; and finish with authentic Malay and Middle Eastern food on Arab Street.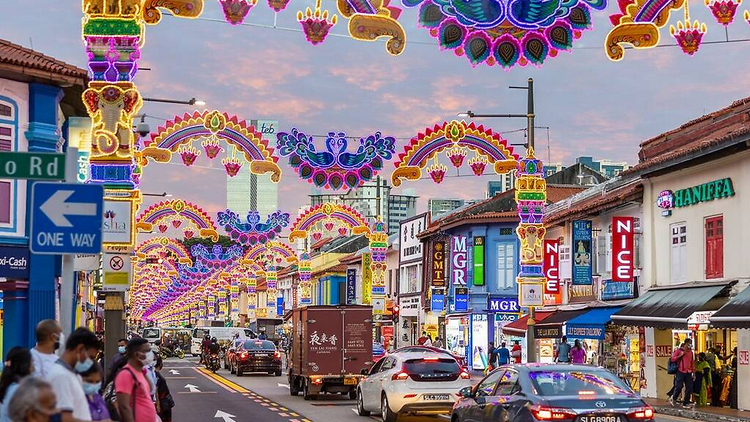 Little India Little India bustles with the sights and sounds of authentic Indian culture. Roam the streets to find reputable North and South Indian restaurants for a taste of true Indian cuisine. Explore the roadsides and alleys and stumble upon textile, incense, and other old trade stalls, and find your way to the Sri Veeramakaliamman Temple, one of the oldest temples in Singapore.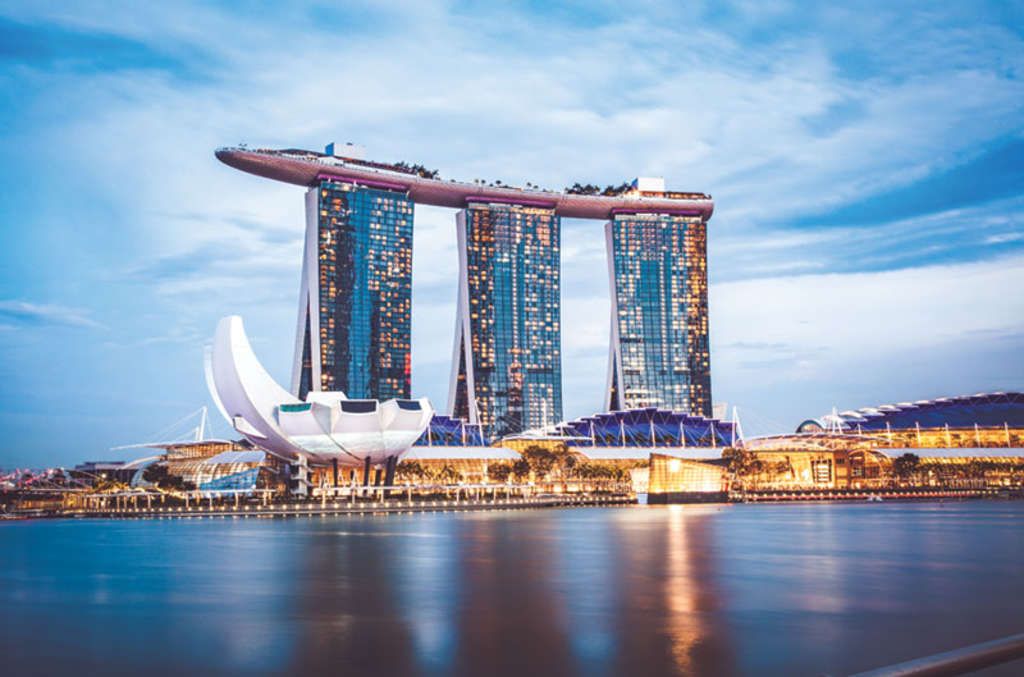 Marina Bay Marina Bay is a symbol of Singapore's urban development. Begin with a leisurely stroll at Gardens by the Bay, or enjoy a breathtaking view of the city from the Singapore Flyer. Then stroll over to the Esplanade – Theatres on the Bay to celebrate the arts.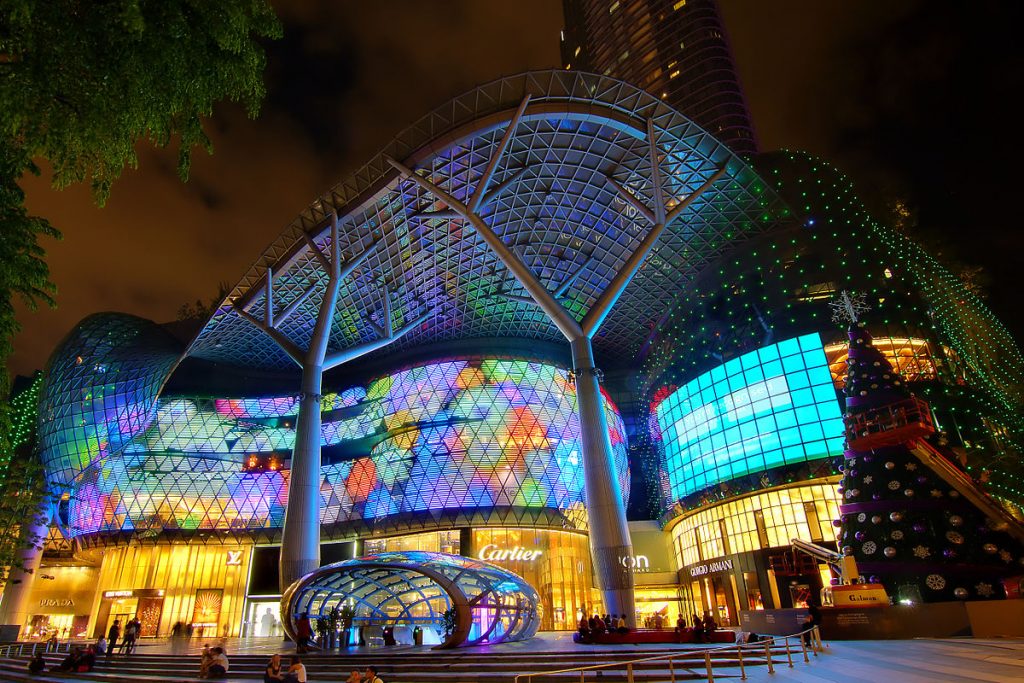 Orchard Road A boulevard of style and luxury, Orchard Road is Singapore's premier shopping district. This 2.2-km belt is lined with distinctive shopping malls, each offering a tempting array of retail, dining and entertainment.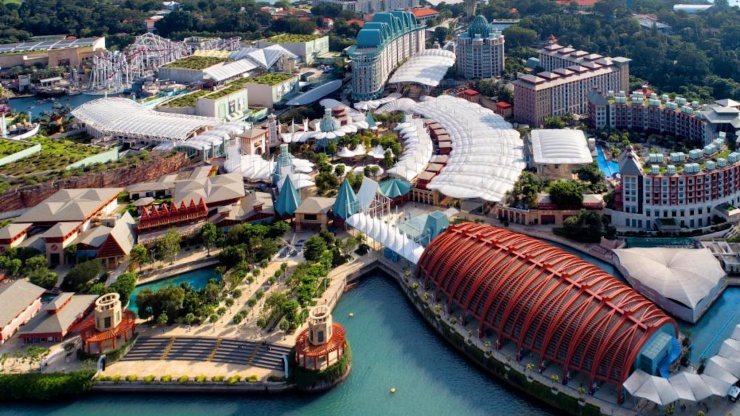 Sentosa With an island-resort vibe, this precinct offers an inviting mix of thrill and idyll. Universal Studios Singapore and S.E.A. Aquarium (one of the world's largest aquariums) are located here along an international golf coursean many top spas. There are breathtaking views while riding the Singapore Cable Car.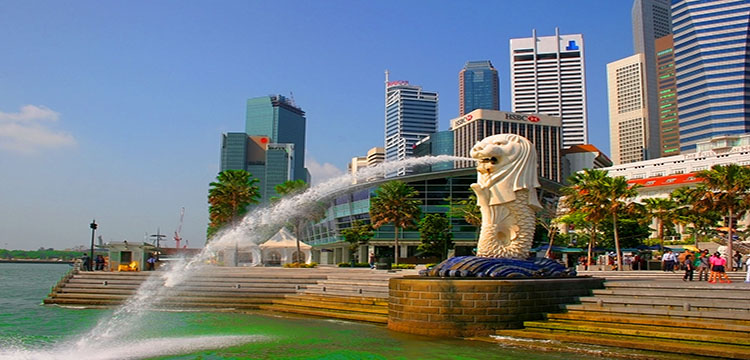 Singapore River With three distinctive quays – Boat Quay, Clarke Quay and Robertson Quay — the Singapore River precinct is one of Singapore's premier waterfront destinations. A leisurely cruise down the pristine waterway takes you past historical and contemporary landmarks. For more information on what each precinct offers, visit www.visitsingapore.com
Visa Information About Singapore
Each foreign visitor entering Singapore MUST complete a SG ARRIVAL CARD application up to three (3) days before arrival (including day of arrival) before entering the country. We highly recommend that you watch the video before starting the application process so that you
have all needed information before you begin.
For Visa Applicants: Only nationals of countries listed on the ICA web page require an entry visa.
Note that visa applicants also need a SG Arrival Card.
General Information about ECI
Engineering Conferences International (ECI) is a not-for-profit, global engineering conferences program, originally established in 1962 that provides opportunities for the exploration of problems and issues of concern to engineers and scientists from many disciplines.
The format of the conference provides morning and late afternoon or evening sessions in which major presentations are made. Poster sessions will be scheduled for evening discussion as well. Available time is included during the afternoons for ad hoc meetings, informal discussions, and/or recreation. This format is designed to enhance rapport among participants and promote dialogue on the development of the meeting. We believe the conferences have been instrumental in generating ideas and disseminating information to a greater extent than is possible through more conventional forums.
All participants are expected both to attend the entire conference and to contribute actively to the discussions. The recording/photographing of lectures and presentations is forbidden. As ECI conferences take place in an informal atmosphere, casual clothing is the usual attire.
Smoking is prohibited at ECI conferences and conference functions.